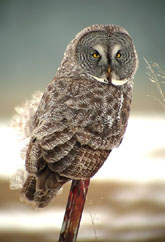 While the owl invasion of 2004/2005 has provided many people opportunities to see Great Gray Owls, the birds themselves have taken a bit of a beating (what's new?). Because they fly low to the ground when hunting, they are easily killed by automobile traffic. Over 500 Great Gray Owls have been found dead along the roads of Minnesota and northern Wisconsin. Compare that with an estimated North American population between 30,000 and 100,000 individuals and that's still a pretty substantial portion.
A number of injured Great Gray Owls (and other northern owls) are being rehabilitated at the
Minnesota Raptor Center
. They are currently involved in a "challenge grant" to help pay for the costs associated with rehabbing these magnificent birds.
The Katherine B. Andersen Fund of the Saint Paul Foundation has offered The Raptor Center a 1:1 challenge grant of up to $20,000 for a rehabilitation fund for the great gray owls treated at TRC this winter. It's called the
"
Give a Hoot
"
fund!
Great Gray Owl image © 2005 Michael Allen McDowell