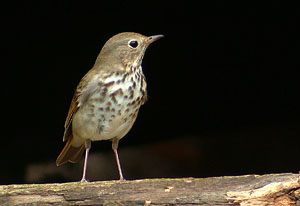 Something to avoid when digiscoping in dim light is the temptation to increase the ISO sensitivity setting to obtain a faster shutter speed at the expense of increased image graininess. Other times the over-ride/under-ride (+/-) exposure function is used to make the image brighter on the LCD viewfinder making composition easier. Using the over-ride/under-ride can be very useful, but I'd recommend doing so into the minus rather than the positive. This will give you a faster shutter speed, which helps to freeze movement and improve image sharpness.
Here are two additional Hermit Thrush images from my April 10th series:
http://www.birddigiscoper.com/birdHETRby3.html
http://www.birddigiscoper.com/birdHETRby4.html
Here is the EXIF data from one of the shots:
CAMERA : E995V1.6
METERING : CENTER
MODE : A
SHUTTER : 1/125sec
APERTURE : F3.7
EXP +/- : -0.7
FOCAL LENGTH : f17.7mm(X1.0)
IMG ADJUST : STANDARD
SENSITIVITY : ISO100
WHITEBAL : AUTO
SHARPNESS : NORMAL
DATE : 2005.04.10 17:19
QUALITY : FULL FINE
SATURATION : 0
FOCUS AREA : CENTER
Note that I
under-rode -0.7
and I have a
shutter speed of 1/125th
of a second. In all cases the original images were considerably darker. I intentionally under-ride in dim light because I know I have a little flexibility post-processing the image in Adobe Photoshop by increasing the brightness levels. This technique concedes the poor lighting, but opts for the faster shutter speed to freeze movement. I can guarantee this method will improve sharpness in your digiscoped images in poor lighting.
Hermit Thrush images © 2005 Michael Allen McDowell