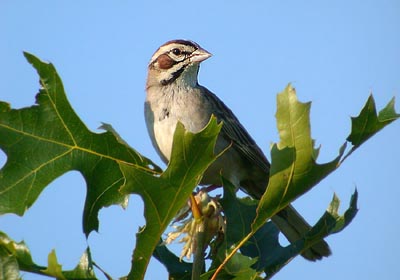 A favorite Sauk County grassland bird haunt of mine is
Spring Green Reserve
, which is owned by
The Nature Conservancy
. It's the most desert-like habitat I know of in Wisconsin; you can even find prickly pear cactus growing! If invertebrates are your thing, eight different tiger beetle species (those super-fast iridescent beetles) can be found in the sand prairie, as well as many butterfly and dragonfly species.
As much as I enjoy taking in the unique flora and fauna, I mostly visit the reserve for the great birding. A few days ago I spent an evening hiking the trail system and found gems such as
PILEATED WOODPECKER, ORCHARD ORIOLE, DICKCISSEL and GRASSHOPPER SPARROW
. However, extremely plentiful were
LARK SPARROWS
that seemed to be perched on nearly every oak tree, as in the digiscoped image above.
In addition to these species, the prairie hosted
FIELD SPARROWS, EASTERN MEADOWLARKS, EASTERN BLUEBIRDS
and
EASTERN KINGBIRDS
. But the surprise of the evening came as I was just about to my car and heard the distinct call of a
NORTHERN BOBWHITE
. From where I was parked, the sneaky bird managed to get into my scope's view for just a second...I barely got off this shot: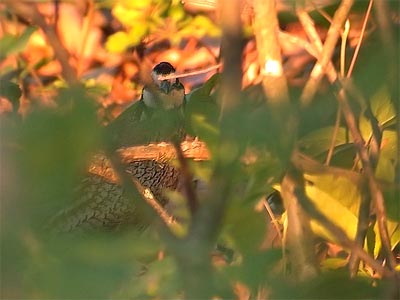 The bobwhite scampered off and I could hear rustling in the leaves and grass to my left. There was a brief pause, then all of a sudden, it sprinted across the gravel driveway way faster than I could ever hope to capture in an image. And here I thought warblers were tricky to digiscope -- this bird had my strategy all figured out…super sneaky! It eventually perched about 3 feet up in the tangle on the right of the path near the gate, but...I just let it be and headed home as it was getting late. Plus, 1/8th of a second shutter speed is pretty worthless in late evening lighting.
Wait until next time!
Link:
All about the Lark Sparrow from Cornell Labs
Link:
All about the Northern Bobwhite from Cornell Labs
Quote of the Day:
"Nature is painting for us, day after day, pictures of infinite beauty."
- John Ruskin
All images © 2005 Michael Allen McDowell