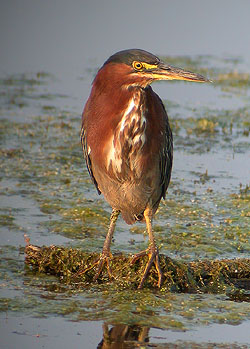 (click for larger version)
By the look of reports so far, the best habitat for fall shorebird migration isn't going to be in Dane County, but I don't feel like driving very far to see them. No matter! There are still plenty of digiscoping opportunities closer to home with common birds. Nine Springs is teaming with
GREEN HERONS
and
GREAT BLUE HERONS
right now and they can make great photography subjects in evening light.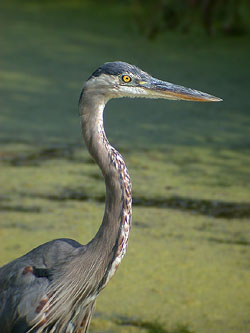 (click for larger version)
On a related note, presently there is a very unusual heron sighting at
Bong State Recreational Area
. As many as
14
LITTLE BLUE HERONS
are being seen there. It is very uncommon to have this species in Wisconsin, let alone so many of them at one location. I probably won't make the trip to see them, plus they are too far from an observation area to get good pictures of them.
More sightings of
BUFF-BREASTED SANDPIPERS
are being reported in northern Wisconsin. A few of my colleagues at
Eagle Optics
are determined to add this species to their life lists this year. There are a few good spots around Dane County that I'll be checking periodically for them. We'll see!
Link:
All about the Green Heron from Cornell Labs
Link:
All about the Great Blue Heron from Cornell Labs
Heron images © 2005 Michael Allen McDowell