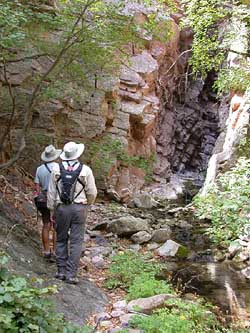 Mark Pretti
, professional nature guide, recently sent me an email with a few positive comments on my blog, so I thought I would return the compliment and give him a little personal endorsement!
If you ever plan a birding trip to
Southeast Arizona
, consider employing Mark's services as a nature guide. When I went to the Southwest Wings Birding Festival back in 2003, I went on one of Mark's field trips into Ramsey Canyon and it was one of the finest birding experiences I've ever had. We tallied 77 species in just a few hours with birds like
Hepatic Tanager, Canyon Wren, Arizona Woodpecker, Acorn Woodpecker, Band-tailed Pigeon, Sulphur-bellied Flycatcher, Lucifer Hummingbird
and more.
Mark's intimate knowledge of nature encompasses the
entire
flora and fauna of the area and isn't limited to birds, as he'll point out plants, insects, mammals and reptiles along the way. I think it's also great that he offers environmental education programs to students and children of all age groups. For a complete list of Mark's programs, tours and field trips you can visit his
website
.
Ramsey Canyon image © 2005 Michael Allen McDowell