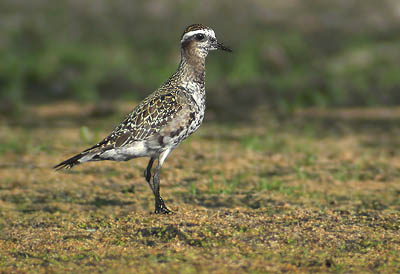 (click on image for larger version)
Jesse Peterson and I spent the better part of Saturday watching shorebirds at
Horicon National Wildlife Refuge
. In the morning there were large, skittish flocks comprised of
LEAST
SANDPIPERS, SEMIPALMATED SANDPIPERS
and
PECTORAL SANDPIPERS
. It's so cool watching flocks of shorebirds zoom around and turn in unison. Most of the time it seemed to be a couple of
NORTHERN HARRIERS
that kept the shorebirds taking to the air, but apparently some birders witnessed a young
PEREGRINE FALCON
carrying off a peep in its talons.
Both
LESSER
and
GREATER YELLLOWLEGS
were present as well as a few
STILT SANDPIPERS
and several
SHORT-BILLED DOWITCHERS.
Also seen were
SANDERLINGS
,
SOLITARY SANDPIPERS, SPOTTED SANDPIPERS,
SEMIPALMATED PLOVERS, KILLDEER
and
WILSON'S SNIPE. BAIRD'S SANDPIPERS
were numerous with really great views.
On a tip from birders Tom & Carol Sykes we observed 2
BUFF-BREASTED SANDPIPERS
along the west section of Old Marsh Road. These were a lifer for a birder named Sam from Massachusetts who came along with Jesse and I. Another birder reported
BLACK-BELLIED PLOVERS
near this same location but they were not present by the time we got there.
With all of this there were so many other birds there worth enjoying like
AMERICAN WHITE PELICANS, BLACK TERNS, SNOWY EGRET, BLACK-CROWNED NIGHT HERONS
and all the
GREAT EGRETS
. The place is just decorated with birds right now.
On Friday there were two
AMERICAN GOLDEN PLOVERS
at the V-Pond north of Waunakee, but the pond is quickly drying up and probably won't be good stop-over habitat for much longer.
Here's a nice picture of a
Buff-breasted Sandpiper
digiscoped by Tom Prestby at the Rainbow Flowage. Tom uses a
Swarovski ATS 80 HD spotting scope
with a Nikon Coolpix 4500, and for more of his digiscoping, you can visit his
Webshots site
.
American Golden Plover image © 2005 Michael Allen McDowell