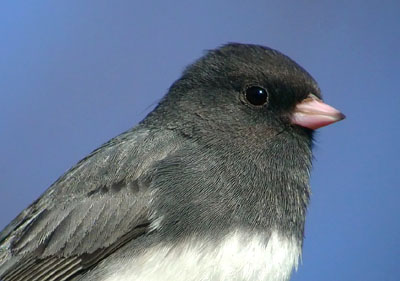 Our first
DARK-EYED JUNCO
of the fall/winter season paid a visit to our feeders this morning. Even though Wisconsin winters have been milder the past several years, they remain a test of psychological endurance to me. The sprightly juncos and their lasergun-sound calls make winter's passing just a little more bearable - we provide the birdseed and they provide the entertainment.
The breakfast crew also included a
WHITE-BREASTED NUTHATCH, BLACK-CAPPED CHICKADEES, NORTHERN CARDINAL, BLUE JAY, CHIPPING SPARROW, MOURNING DOVE, HOUSE FINCHES
and
AMERICAN GOLDFINCHES
. Two
YELLOW-RUMPED WARBLERS
were foraging for insects around our maple tree.
Addendum:
While reading at the patio, I observed these additional species this afternoon:
Purple finch
Golden-crowned Kinglet
White-throated Sparrow
Yellow-bellied Sapsucker
Downy Woodpecker
American Robin
Common Grackle
Tree Swallow
Chimney Swift
Dark-eyed Junco image © 2005 Michael Allen McDowell