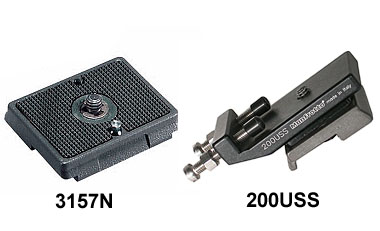 Yesterday a birder brought in their high-end spotting scope with a mangled foot and stripped threads from repeatedly over-tightening the 3157N Bogen quick-release plate. I see this all the time - it's the bane of birders everywhere. It's annoying setting up your scope and tripod only to find the scope a little wobbly atop the tripod head. You've got to pop it off the quick-release, tighten down the D-ring, snap the scope back on...and who knows what bird you've missed by the time this takes. Not twenty minutes will pass and it seems like the blasted thing loosens up again.
Those of us who have used the 3157N plate understand how frustrating this problem is. The guide pin included with the plate is completely worthless, as spotting scope manufacturers do not place a corresponding hole on the foot that is specifically designed to mate with it. If you must use the 3157N plate, I suggest removing the pin as it generally ends up scratching the heck out of the scope's foot, and you'll get an even better cinch without it!
Bogen certainly didn't have three-pound spotting scopes in mind when they designed the 3157N quick-release plate. While it isn't recommend that you carry the scope and tripod around attached, I know everyone does it. Hey, I do, too! But the reason I no longer have this particular problem is because I've ditched the 3157N plate in favor of the
Bogen 200USS Universal Anti-twist plate
. It's the best $52.95 that I've ever spent on my scope and has saved me countless headaches, especially when digiscoping.
The 200USS plate is a pretty ingenious device, actually. The bottom plate is formed similarly to a 3157N plate, but it is grooved on the upper-side to match a second plate that has two rubber-padded locking bolts attached to it. The D-ring will tightening a ¼"x20 screw into the bottom of the scope's foot, then you tighten the two locking bolts to one surface of the scope's foot for a super grip that will not come loose.
Link:
See the 200USS attached to my Swarvoski AT80 HD spotting scope