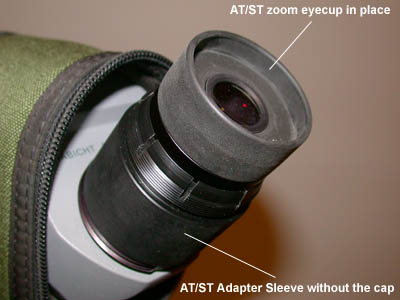 Here's a useful tip from Clay Taylor of Swarovski if you're using the Swarovski AT/ST series spotting scope with the DCA and Adapter Sleeve. I've tested it and agree with Clay that using the Adapter Sleeve without the upper collar/cap works much better!
Clay writes:
The Swarovski Adapter Sleeve is part # 660-0234A. I have been tinkering with it, and I think that it is better to use the Adapter Sleeve on the zoom ring WITHOUT screwing on the upper collar/cap (or whatever they call it on the instruction sheet). Two reasons:


With the collar off, you can reattach the rubber eyecup on the eyepiece. Attaching the collar makes using the eyecup impossible.
You can slide the DCA Inner Tube down the eyepiece so that the camera and Outer Tube will have a close enough spacing to allow the camera's zoom to get rid of vignetting easily. Otherwise, the upper sleeve stops the DCA Inner Tube from doing far enough down the eyepiece.

The upper collar was evidently designed to "clamp" the Sleeve to the zoom ring of the eyepiece, but once you attach the DCA Inner Tube, its thumbscrew serves the same function. I had no slippage as I turned the DCA / Adapter Sleeve to zoom the eyepiece. So, leave the upper collar off.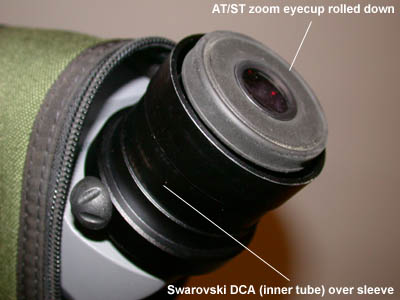 One more thing - in the initial setup, slide the entire DCA Assembly (Inner Tube, Outer Tube and Back Plate) down the eyepiece / Adapter Sleeve assembly until it stops. Now the Back plate is resting against the rolled-down eyecup. Now lock down the Inner Tube, which holds the Sleeve in place on the eyepiece. Remove the Outer Tube and attach to the camera, roll up the eyecup for viewing, and have fun!

Clay Taylor
Naturalist Market Manager

Swarovski Optik North America LTD
2 Slater Road
Cranston, RI 02920
Tel. 800-426-3089 x 2959
Fax. 401-734-5888
ctaylor@swarovskioptik.com
www.swarovskioptik.com

All images © 2005 Michael McDowell