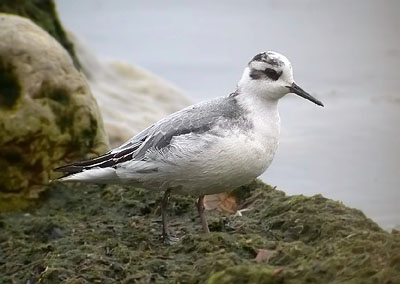 (click on image for larger version)
Upon arriving at
North Point
(Milwaukee), I found the
RED PHARLOPE
working the cladophora mats a few minutes into the search. The bird didn't seem to mind me approaching within 40 feet for a digiscoping opportunity, but the overcast skies made lighting pretty difficult to work with. Other birds at the Point included a pair of
BLACK SCOTERS
and an assortment of common waterfowl and gulls. Many of the ducks took flight when a group of kayakers paddled through, so we decided it was time to move on.
Our next stop was the
South Metro Sewage Treatment Plant
at Oak Creek to see if any
CAVE SWALLOWS
remained. Jesse Peterson saw two of them late yesterday so I thought our prospects were still pretty good. When we got there, we were pleased to learn that another group of birders had just seen the swallow within the past several minutes, so we figured it was only a matter of waiting.
A tall wall barricades the entire treatment plant and the swallows have been observed flying above the settling tanks (where there are insects for them to eat). Because of the wall, getting a picture would be super tough. When Aaron Stutz discovered a swallow perched on a railing, I quickly hoisted my spotting scope (with help) to the top of the wall. I secured two tripod legs over one of the wall's 90° bends, the other leg and the center-post on the opposite side, firmly locking down my scope and digital camera atop the barrier wall - it was almost as good as a car window mount! I only managed to get one shot off at 4 X optical zoom and 20X on the eyepiece while the swallow was perched on a railing: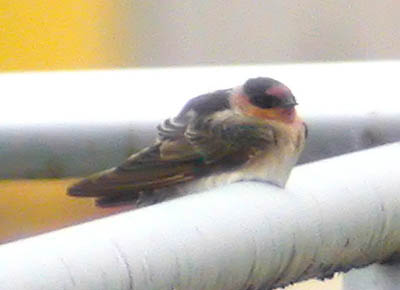 (click on image for larger version)
So here we are November 20th and we also found
THREE
warbler species (first seen by Aaron Stutz and Tom Prestby) along the wall and in the grass on the beach! Who expects to see
YELLOW WARBLER, COMMON YELLOWTHROAT
and
YELLOW-RUMPED WARBLER
this time of year? When Tom Prestby reported the warblers to the Wisconsin Birding Network, the "Keeper of the Records" announced the following:
"If the Yellow Warbler reported today (November 20th) is long form documented and accepted by the WSO Records Committee, it would go into the state records as the ONLY Yellow Warbler ever reported in Wisconsin in November. As one might notice on the following paste, there is one valid winter record for Dec. 4, 1999."

-- Bob Domagalski, Menomonee Falls
We scoped through the gulls on the beach for a while, but nothing new turned up.
Species observed from the plant:
Common Loon
Long-tailed Duck
Common Goldeneye
Bufflehead
Horned Grebe
Mallard
Canada Goose
Snow Goose
Bonaparte's Gull
Franklin's Gull
Ring-billed Gull
Great Black-backed Gull
Herring Gull
American Kestrel
Song Sparrow
Yellow-rumped Warbler
Yellow Warbler
Common Yellowthroat
Cave Swallow
All images © 2005 Michael McDowell