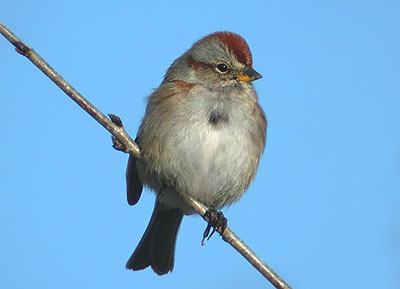 This morning I was a little surprised to find a solitary
AMERICAN TREE SPARROW
at our platform feeder. It made two brief appearances before I had to leave for work. It was dark by the time I got home this evening so tomorrow will tell whether or not it plans to stick around. I hope it does. I mean, I'm perfectly content with the company of juncos, but it's nice to have a little sparrow variety out there.
The deep blue hues and long shadows of winter have taken hold and go well with the quietness in the wake of twilight. I remember when I was a kid I used to pretend the snow transformed Wisconsin into the fictional planet Hoth of Star Wars fame. I would bundle up and explore the nearby woods, also pretending I was on some sort of National Geographic adventure…until the pangs of frostbite called me back to base camp. Now when I gear-up for winter birding, a sense of purpose has replaced that style of imagination…but the level of fun remains the same.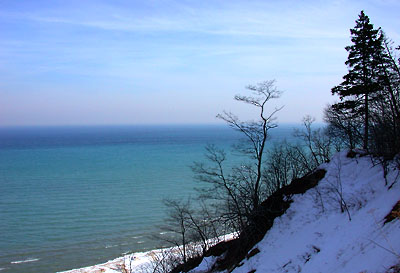 On Wednesday I made an attempt to digiscope Snow Buntings. I found them easily enough but the bitter cold was too much for bare hands to work the camera. Though I got within 30 feet of one, I wasn't able to locate it in the LCD viewfinder before a car zoomed past, sending the flock of larks, buntings and longspurs to an adjacent field. After nearly an hour of watching and waiting for them to return to the side of the road, I decided to head back to base camp.
All images © 2005 Michael McDowell