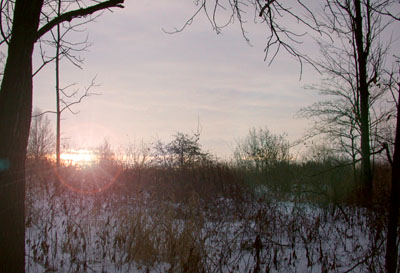 Given a report of a
VARIED THRUSH
from yesterday and a day off work, I had big plans to try and digiscope it today. I searched for 4 hours this morning by the Big Springs at
UW Arboretum
, but no luck. A couple other birders were there until we all left around 12:30 p.m. without finding the bird. Alas, I had to settle for
HERMIT THRUSH
…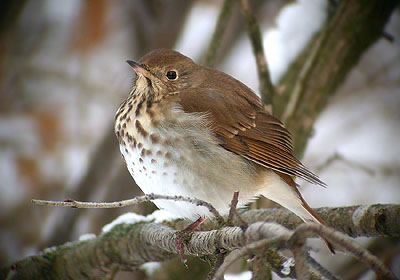 (click on image for larger version)
Hermit Thrush #1
Hermit Thrush #2
Hermit Thrush #3
But what a great bird to observe and photograph. The
HERMIT THRUSH
proved to be very interesting and I thoroughly enjoyed watching its foraging behavior and technique. It seemed to be finding some type of invertebrate in the water and mud along the springs, eating every minute or so. It was also employing the jiggly-foot strategy for bringing food to the surface like some shorebirds do.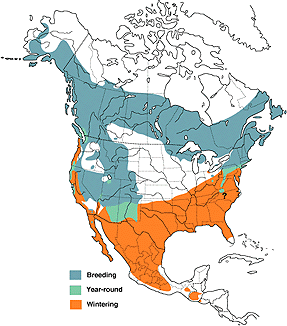 By looking at this map, you can see that this particular Hermit Thrush isn't too far off out of its normal wintering range. A birder from Illinois emailed me saying he found 6 Hermit Thrushes just over the border in McHenry County last Saturday during his Christmas Bird Count.
Link:
All about the Hermit Thrush from Cornell Labs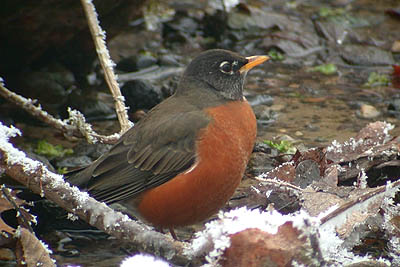 I watched 30+
AMERICAN ROBINS
flipping leaves over as they searched for something to eat. Several
WHITE-THROATED SPARROWS
periodically joined in and at one point a
NORTHERN FLICKER
came down to the water's edge for a few minutes. As long as these birds stick around the springs there seems to be plenty of food for them. Well, there's also plenty of fruit and berries to munch on in the area.
In the gardens there were
HOUSE FINCHES
,
AMERICAN GOLDFINCHES
and a
PINE SISKIN
. On my way home I found
LAPLAND LONGSPURS, HORNED LARKS
and
SNOW BUNTINGS
along Meffert Road between Waunakee and Middleton.
All images © 2005 Michael McDowell