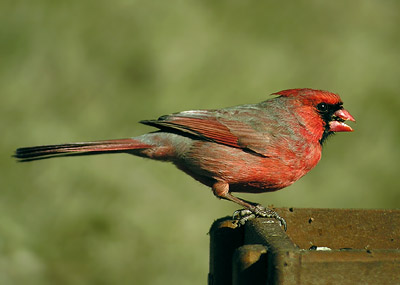 (click on image for larger version)
CAMERA : E8400V1.1
METERING : CENTER
MODE : A
SHUTTER : 1/708sec
APERTURE : F4.7
EXP +/- : -1.0
FOCAL LENGTH : f20.1mm(X1.0)
IMG ADJUST : CONT+
SENSITIVITY : ISO100
WHITEBAL : SUNNY
SHARPNESS : NORMAL
DATE : 03.04.2006 14:53
QUALITY : 3264x2448 EXTRA
SATURATION : 0
FOCUS AREA : RIGHT
To avoid misses and frustration in the field, I conducted a few tests with my
Nikon Coolpix 8400
and
Swarovski scope
on backyard birds this afternoon. I spent some time tinkering around with the contrast, white balance and saturation…I think I have it setup just right now. One thing I'm not used to is dealing with the gigantic size of the image files, especially in RAW mode. The color is fantastic, but I can't quite seem to get the Area-spot mode to nail the focus and actually got better results focusing by the scope while in infinity mode on the camera.
I think of memorizing the buttons and menus on a camera sort of like a strategy for solving a Rubik's Cube. Those people who can solve the cube in less than 15 seconds have memorized patterns and combinations of moves. To be able to change a setting on the fly in the field can often make or break the shot – you don't want to be haphazardly fumbling around with the camera when a
Kentucky Warbler
pops down from the canopy directly in front of you. I'll be ready...
Northern Cardinal image © 2006 Mike McDowell