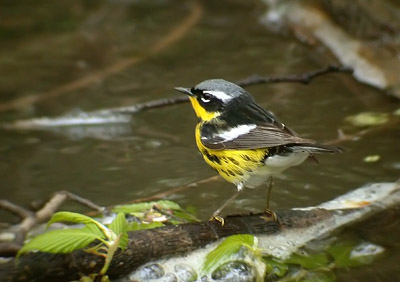 Magnolia Warbler © Mike McDowell
There were a couple of fast-moving warbler flocks yesterday morning in
Pheasant Branch Conservancy
, foraging mostly in the upper-story (ouch, my neck). Rain kept to sprinkles - in Ireland, it'd be called a "
soft day
," nevertheless very enjoyable weather to be birding in.
About a dozen birders formed into a few groups, walking the length of the south stream corridor and back. Occasionally we would meet along the trail and exchange sighting notes - it's so much fun!
The most abundant warblers seemed to be
Chestnut-sided Warbler
and
American Redstart
. Two groups reported seeing
Bay-breasted Warbler
,
Magnolia Warbler
, but one group was privileged to find a
Canada Warbler
and
Blackpoll Warbler
.
The group I was with heard a
Scarlet Tanager
singing west of Park Street, but the view was too obstructed. Near the end of the trail we caught up with a mixed flock that contained a few warbler species and two
Yellow-throated Vireos
. We were able to follow the flock for several minutes and got excellent views of two
Magnolia Warblers
.
Canada Goose
Wood Duck
Mallard
Cooper's Hawk
Mourning Dove
Great Horned Owl
Ruby-throated Hummingbird
Belted Kingfisher
Hairy Woodpecker
Downy Woodpecker
Red-bellied Woodpecker
Empidonax Flycatcher
Eastern Phoebe
Great Crested Flycatcher
Yellow-throated Vireo
Blue Jay
American Crow
Black-capped Chickadee
Tufted Titmouse
White-breasted Nuthatch
Carolina Wren
House Wren
Ruby-crowned Kinglet
Blue-gray Gnatcatcher
Veery
Wood Thrush
American Robin
Gray Catbird
European Starling
Blue-winged Warbler
Golden-winged Warbler
Tennessee Warbler
Nashville Warbler
Northern Parula
Chestnut-sided Warbler
Magnolia Warbler
Yellow-rumped Warbler
Black-throated Green Warbler
Blackburnian Warbler
Palm Warbler
Bay-breasted Warbler
Blackpoll Warbler
Black-and-white Warbler
American Redstart
Ovenbird
Northern Waterthrush
Common Yellowthroat
Canada Warbler
Scarlet Tanager
Song Sparrow
White-throated Sparrow
Northern Cardinal
Rose-breasted Grosbreak
Indigo Bunting
Baltimore Oriole
House Finch
American Goldfinch