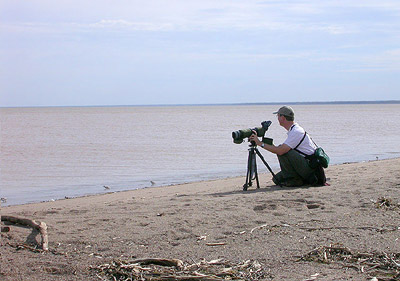 Sanderlings strolling by at Wisconsin Point
Following
Nuthatch
...
What state (or country) do you live in?:
WI, USA
How long have you been birding?:
Since about 1998.
Are you a "lister"?:
Casual lister.
ABA Life List:
440 (WI 315).
Overall Life List:
Same.
3 Favorite Birding Spots:
Pheasant Branch Conservancy (Middleton, WI), Baxter's Hollow in the Baraboo Hills (WI) and Wisconsin Point WSO annual field trip (always a thrill).
Favorite birding spot outside your home country:
Sadly, trips to Europe predate birding. Did have a "National Geographic" experience at Bird Islands in Nova Scotia.
Farthest you've traveled to chase a rare bird:
Within Wisconsin only - probably about 300 miles. Wiffed on an 11 hour round-trip drive for Burrowing Owl.
Nemesis bird:
Yellow-crowned Night Heron.
"Best" bird sighting:
Late December swallows (WI) - probably Northern Rough-winged.
Most wanted trip:
Galapagos Islands or New Zealand.
Most wanted bird:
Barn Owl.
What model and brand of bins do you use?:
Swarovski 8x30 SLC, Nikon Superior E 8x32, Vortex DLS 8x42.
What model and brand of scope do you use?:
Swarovski AT80 HD.
What was the last lifer you added to your list?:
Sharp-tailed Grouse.
Where did you see your last lifer?:
Near Solon Springs, WI.
What's the last bird you saw today?:
Canada Goose (last night).
Best bird song you've heard ever:
Winter Wren or Fox Sparrow.
Favorite birding moment:
Leading a field trip, finding a great bird and having all the participants see it. Teaching others.
Least favorite thing about birding:
Listening to "bird-offs" when someone tells a birding story (or sighting) and another tries to better it for the sake of bragging - on and on it goes.
Favorite thing about birding:
Near or far, every outing is an adventure.
Favorite field guide for the US:
Sibley Guide.
Favorite non-field guide bird book:
Donald Kroodsma's "The Singing Life of Birds"
Who is your birder icon?:
None.
Do you have a bird feeder(s)?:
Yes.
Favorite feeder bird?:
Red-breasted Nuthatch.