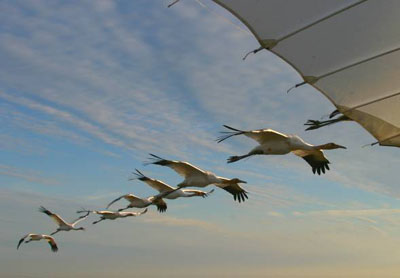 © Joe Duff
Yesterday I received an email from
Operation Migration
that they are short
$100,000
for the "Class of 2006" Whooping Crane migration effort. If you're not familiar with what Operation Migration is all about, you can learn more at their
website
:
You can donate on-line via PayPal here:
Yes - I want to help the Whooping Cranes!
Or you can donate by calling:
(800) 675-2618
The Necedah Whooping Crane population is up to 60 birds (since 2001). Each Whooping Crane represents an investment of about $100,000 - almost entirely paid for through donations. No donation amount is too small - every dollar goes to helping save these beautiful birds. I sincerely hope you'll consider participating in a program that I feel is making a difference for a species we almost wiped out.
Video Link:
Nat. Geo reporter flies with the Whoopers