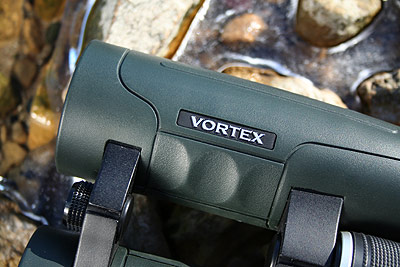 Yesterday I purchased a pair of
Vortex Razor 8x42
binoculars to add to my optics
"collection
" (the correct classification for my heap of glass, as advised by a colleague). Technically, I really didn't need another binocular because I have a
Nikon Premier SE 8x32
and a
Vortex Stokes DLS 8x42
for my two primary birding binoculars (sometimes I use a
Swarovski 8x30 SLC
). Lately, though, I've been admiring the Razor's distance resolution, which is observably better than my Stokes DLS. Ya know, it's not easy working around so many great optics (
sigh
). I'll probably donate a few of my less expensive binoculars to
Birder's Exchange
.
Last evening after work, I stopped to look for the Short-eared Owl at Middleton's Municipal Airport and to try out my new optics. The owl must have hunted elsewhere, but I did get to test out the Razor's super-sharp resolution when a Red-tailed Hawk pounced on prey on a hill about a mile away. I was amazed by the clarity and crispness – pretty close to my Superior E. Even at distance and in dim light, the hawk's form was perfect and I could make out three distinct colors - dark top, light underside and copper tail. The Razor delivered very usable views almost 40 minutes past sunset, though my DLSs were marginally brighter. However, I prefer the winner with distance resolution over a slight edge on brightness.
Oh joy - look what's in store for the weekend...
SATURDAY:
Low: -3
High: 6; (Wind Chills: -15 to -25)
SUNDAY:
Low: -8
High: 4; (Wind Chills: -15 to -25)
MONDAY:
Low: -10
High: 5; (Wind Chills: -15 to -30)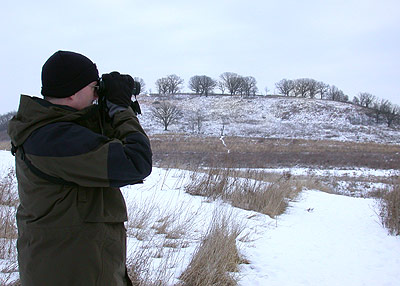 Yikes! When it gets this cold, I'd rather stay inside and watch backyard birds or read a good book. While modestly warmer temperatures endured this morning, I decided to go birding at Pheasant Branch Conservancy with my Razors to provide additional observations for this short review. Looking around the snow covered fields, the Razor's optics are slightly warm under overcast skies, but not distractingly so. Once the sun came out from behind the clouds, the binoculars were color neutral. I found a small flock of American Tree Sparrows near the fence line and enjoyed watching them forage in phenomenal detail.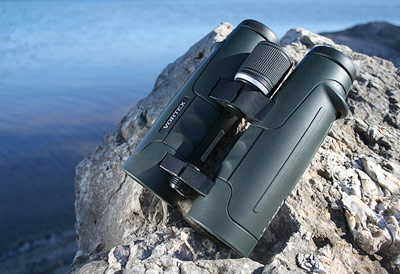 The Razors have exceptional contrast and virtually no chromatic aberration in the center of the field. You can get some color fringing to appear near the edge of the field, but every binocular in the world will show a little near the edge. The field is discernibly flat and very wide at 410' @ 1,000 yards, making scanning an awesome experience. Ergonomically the binoculars are slightly heavier (29.4 ounces) than I normally like, but the "European" open-hinge design balances it out pretty well. I use the slide-and-flex bino harness on all my binoculars so the weight is never on my neck and doesn't create a problem.
The Vortex Razors' price is another of its attractive qualities. In fact, I can't think of a binocular with better optics in its price range. But enough about what I think – you can read a recent customer review on the Razor at
this BirdForum.net thread
.
All images
©
2007 Mike McDowell