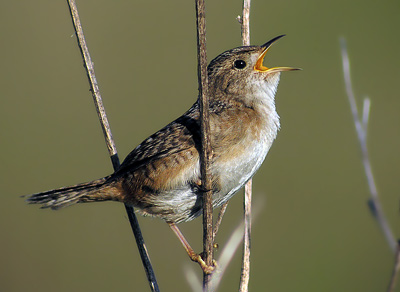 Singing Sedge Wren at Pheasant Branch
You know what?
Pheasant Branch Conservancy
really is a wonderful place to go birding. I checked my blog entries for last year around this time and came across my New Year's Resolution for 2008:
"In 2008, I will not record a year list of bird species. However, I will still collect eBird data for Pheasant Branch Conservancy and that's where I will continue to focus my nature quests. I will also continue to increase my understanding of non-avian flora and fauna, especially native plants and wildflowers. I will endeavor to do as much as I can to limit the squandering of communal resources in pursuit of these interests by staying close to home. Provided with the means to do so, I will help people and organizations whose goals are the same as mine; to protect nature's creatures and the habitats they depend upon. Make every bird a life bird."
I made good on quite a bit, though it wasn't exactly at the forefront of my mind in the context of a resolution as the year progressed. I made 88 separate birding excursions to Pheasant Branch and tallied 14,091 individual birds for 161 species. The
eBird
count for the conservancy now stands at 204 bird species. (My personal master PBC list is at 211, but not all species are entered into eBird). The most exciting new bird for the conservancy in 2008 was a nesting pair of
Bell's Vireos
that successfully fledged young. It sure was an enjoyable experience monitoring their progress throughout summer.
As far as helping organizations went, I donated to The Friends of Pheasant Branch Conservancy, The Nature Conservancy, Raptor Education Group, The Endangered Resources Fund, International Crane Foundation, Operation Migration, and The Minnesota Raptor Center. I contributed observation data for the Cherokee Marsh/North Lake Mendota Important Bird Area project. I led field trips for Holy Wisdom Monastery, Madison Audubon and the Horicon Marsh Birding Club. I also participated in my first CBC in December.
Though Sylvia Marek continues to be an outstanding mentor as a naturalist, I feel like I failed to learn as much about non-avian flora and fauna as I was hoping to. Well, I did manage to add new images to my growing collection of
wildflower photographs
.
In 2008 I finally overcame a technical difficulty I was experiencing with my Nikon Coolpix 8400's white balance setting and added over 20 digiscoped images to my
main gallery
. Never once did I revert back to my Nikon Coolpix 995! (It barely works, anyway). German Digiscoper Gerd Rossen was experiencing the same yellow color tinging in his digiscoped images when using the 8400. He emailed inquiring how I overcame the white balance problem, so I offered him
my simple solution
.
Let's see... what else... Oh yeah! Despite personal emotional turmoil, I managed to keep this blog running for another year.
So, what of 2009?
Binoculars.
Camera.
Spotting scope.
Single.
Life is good!
© 2008 Mike McDowell