Another May comes to an end tomorrow. It was a superlatively fabulous month of watching migratory birds and will go down as one of my most memorable. Finding 31 warbler species along the Pheasant Branch creek corridor was a personal record, and I'm still pretty thrilled about the Worm-eating Warbler. Though I no longer chase, keep a life or year list, the majority of the 200 or so bird species I've seen so far this spring were found at the conservancy.
Through June, I'll be watching the prairie burst and bloom with activity and color. Around 60 bird species can be found on the county parcel during the breeding season, but sometimes you must look and listen carefully. Some songs may trick you into thinking you're hearing an insect, like the
"buzz buzz buzz buzz"
of the Clay-colored Sparrow (pictured above).
Shy and more difficult to approach, but on occasion remarkably accommodating to observation, Sedge Wrens have taken up residence throughout the 160 acre grassland and meadow. There must be around 30 singing males on the property by my estimate – a veritable colony of these typically elusive wrens.
On the song of the Sedge Wren,
William Burt
wrote:
"I do not understand how this tidbit of a bird can sing so forcefully and often, with such unflagging energy. The bird is barely bigger than a kinglet, and less than half the weight of your average sparrow – about eight grams, compared to the twenty of a song sparrow, say. It is, without a doubt, the smallest bird of any marsh or meadow; yet its voice is one of the biggest and most indefatigable."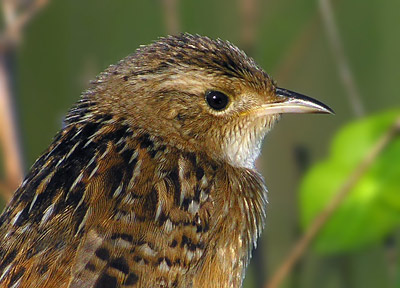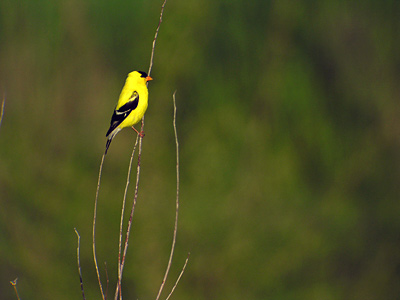 As I sat on a bench along the path, the sinking sun's golden rays casting my shadow over the grass, a dazzling male American Goldfinch perched before me, perhaps for a moment's rest. I suppose that's also what I was doing. It had been a rather hectic week and there was nothing of any particular importance I needed to be doing other than being mindful on a bench admiring nature's bounties. Photographing the goldfinch, I imagined how the bird might have spent its entire day. And then with a sense of urgency, like remembering some important errand requiring immediate attention before daylight ended, the goldfinch applied its freedom to the air.
I applied mine to the path.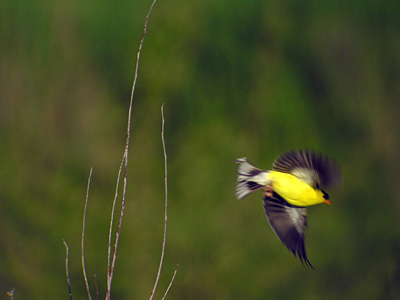 © 2009 Mike McDowell