My parents, Ruth & Dennis McDowell, were thrilled to have a
Red Fox
den under their deck this past winter and spring. They had told me the mother fox would often stand guard early in the morning on a landscape rock near the den entrance. One day before birding, I headed out to their house to see if the fox would be out. Sure enough, she was in her usual spot, golden rays illuminating her gorgeous coat. These two images were captured with my
digiscoping rig
from the street adjacent to their backyard.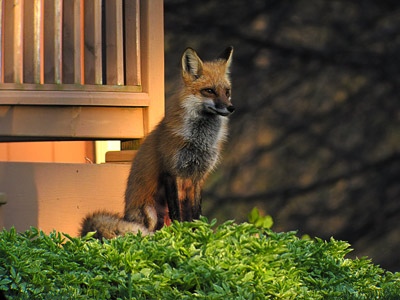 Amazingly, they were able to capture the kits feeding from their bedroom window on video (see bottom of article). This was such a wonderful experience for the both of them, so I asked Ruth to write her thoughts and feelings about the fox family for my blog.
Here's what she wrote:
Our family had the unique privilege of spending several weeks watching a mother fox raise five kits from a den she dug under our large backyard deck. I first spotted her sitting on a large landscape rock next to the deck and was delighted to see a wee kit pop its head up next to her. Shortly after that first sighting we counted five kits in all. We would watch her bring them out into the yard a bit, let them run about and when we were really lucky, observe all five of them suckling. She was a wonderful, watchful mother. We always gave her space and never went outside when she was out, though she was very aware of our presence as we watched through the back windows. I would talk to her softly when I went out onto the deck and we often sat there during the day, always aware that she was just beneath us in her den. We wondered how long she would stay as the kits grew; they began to wander farther and farther into our yard and even our neighbor's yard.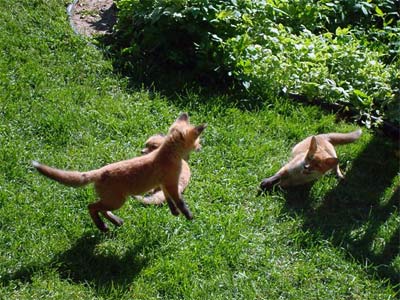 Then one day we noticed a kit missing. Someone had seen her and a single kit heading for a nearby wooded strip of land. Then over the next few days she would remove another kit. We believed she was moving them to a more secure area. After a day or two of not seeing any kits or mother fox, we were surprised to see her come up onto our deck and look into our large patio door window briefly making eye contact and then turn, look back over her shoulder, and trot off toward the woods. It was an exhilarating feeling and both my husband and I truly felt that she came by to say farewell and thank us for keeping a respectful distance as she mothered her wee kits. We felt very touched by her gesture and hope she returns again next spring.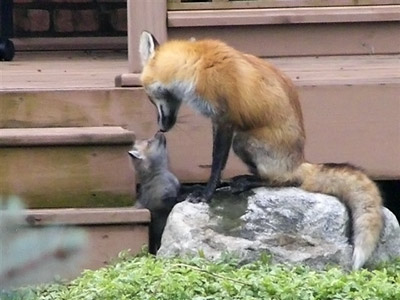 Above image © 2009 Tricia Liberty
Top two images © 2009 Mike McDowell