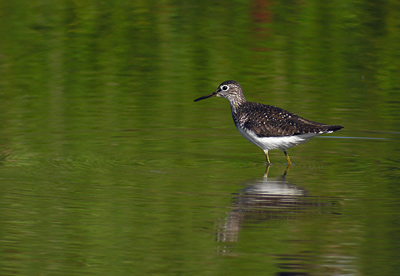 Solitary Sandpiper
The Deer Creek confluence pond looks promising once again for migrating shorebirds. On my bike ride home from work yesterday I stopped at the pond and found several
Least Sandpipers
,
Spotted Sandpipers
,
Solitary Sandpipers
,
Pectoral Sandpipers
, a few
Lesser Yellowlegs
, and lots of
Killdeer
foraging along the mudflats. There was also a
Great Blue Heron
and
Great Egret
in the deeper part of the pond.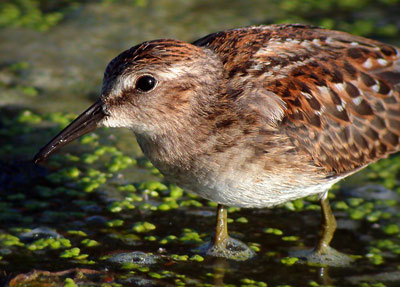 Least Sandpiper
Given its inherently high magnification, digiscoping offers excellent potential in capturing intimate views of birds, like how a foraging sandpiper appears to a nearby companion. Still, digiscoping has limitations – it isn't very effective for birds in flight
because
of its magnification. In my experienced opinion, however, this isn't a valid reason to dismiss it or criticize it as a respectable form of nature photography as
some super-telephoto photographers
do. What do you think?
The weather forecast is calling for drier weather for the next week which will keep the pond attractive to tired and hungry shorebirds. Warblers are increasing in southern Wisconsin, so each morning I'm faced with a birding dilemma; hit the pond for shorebirds or head to the conservancy creek corridor for neotropical songbirds? Do you alternate your type of birding during migration? Do you favor one type of birding over another?
All images © 2010 Mike McDowell