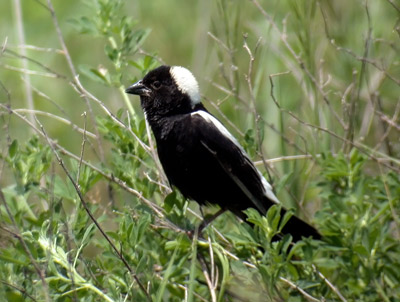 Curt Caslavka and I scouted the fields at
Middleton Municipal Airport
this morning ahead of the
Madison Audubon field trip
scheduled there for this Saturday at 8:30AM. We found around 50 BOBOLINKS, close to 30 EASTERN MEADOWLARKS, and dozens upon dozens of SAVANNAH SPARROWS. We thought we heard a DICKCISSEL far off (I know there are some along Deming Way right now). Other birds on the property included EASTERN KINGBIRD, WILLOW FLYCATCHER, COMMON YELLOWTHROAT, YELLOW WARBLER, WARBLING VIREO, and some GREEN HERONS.
If you're planning to attend this Saturday, you should:
Bring drinking water.
Bring insect repellent.
Wear long pants.
Wear waterproof hiking boots.
The field trip will provide a rare opportunity to see an impressive concentration of Bobolinks and other grassland bird species. I think it's cool there's a place so close to town where they are flourishing like this. Thanks goes out to
Middleton Public Lands
,
Richard Morey
(Airport Manager), and Curt for getting permission for us to lead a field trip on this interesting property!
Here's Rich Morey's contact info if you want to send him a 'thank you' note:
Richard Morey
8300 Airport Road
Middleton WI 53562cfiirich@tds.net
Bobolink image © 2011 Mike McDowell