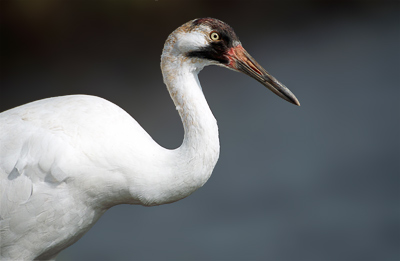 Whooping Crane image courtesy of USF&WS
Date: April 24, 2012
Reporter: Heather Ray
Subject: REWARD OFFERED
Location: Main Office
A reward has been offered by the U.S. Fish and Wildlife Service for information leading to the arrest and conviction of the person responsible for the shooting of a whooping crane located along 354th Avenue, approximately 17 miles southwest of Miller, SD.Law enforcement officers from the Service and the South Dakota Game, Fish and Parks are investigating the shooting, which took place on the afternoon of Friday, April 20, 2012.
The migrating adult whooping crane was traveling with two additional whooping cranes before being shot with a high-power rifle as it was standing in a corn field.Anyone with information should call either the 24-hour Turn in a Poacher Hotline at
1-888-OVERBAG (683-7224)
or the U.S. Fish & Wildlife Service at
(605) 224-9045
to report any information which will aid officers in the apprehension of the shooter. Callers can remain anonymous.