Swarovski's new
TLS APO and DCBII adapters
have set a new digiscoping standard for form and function, but there were a few casualties along the way. Their popular
DCA
and
UCA
adapters have been discontinued and we have only a few of each remaining in stock at
Eagle Optics
. Noteworthy not only for ATS/STS and ATM/STM scope owners, the DCA and UCA can be used on a few other
non-Swarovski spotting scopes
. This may be your last chance to get them. While Swarovski made the TLS APO and DCBII adapters compatible with their older scope models, they
will not work
with any non-Swarovski spotting scopes. To ensure that you select the correct adapter for the scope model you own, here's a nifty diagram showing Swarovski's current line of digiscoping adapters and what types of cameras they work with. Note: What goes for the ATS/STS series also works for ATM/STM scopes.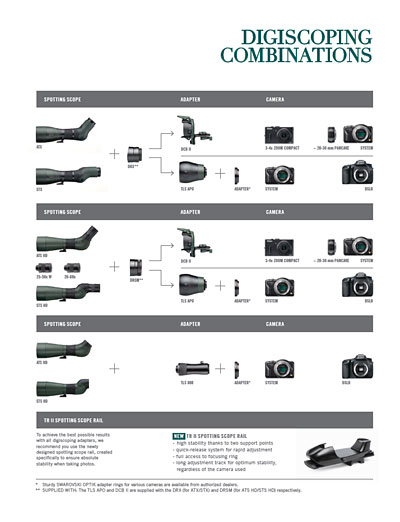 (click image for larger version .PDF)
Here's a list of other alpha-class spotting scopes and currently available adapters, also noting those slated to be discontinued. I've also indicated the types of cameras they work with.
Kowa Prominar 77/88
Kowa DA10 Digital Camera Adapter


Point-and-shoot digital cameras
Mirrorless compacts like the Nikon 1 V1 and V2
Micro 4/3s Systems
DSLR cameras
Kowa TSN IP4S iPhone 4/4S Digiscoping Bracket

Kowa DA4 Universal Digital Camera Adapter


Point-and-shoot digital cameras
Kowa TSN-PZ Digital SLR Photo Adapter


Mirrorless compacts like the Nikon 1 V1 and V2
Micro 4/3s Systems
DSLR cameras
Zeiss Diascope 65/85
Zeiss Diascope Photo Adapter


Mirrorless compacts like the Nikon 1 V1 and V2
Micro 4/3s Systems
DSLR cameras
Zeiss Quick Camera Adapter II (DISCONTINUED)


Point-and-shoot digital cameras
Mirrorless compacts like the Nikon 1 V1 and V2
Micro 4/3s Systems
DSLR cameras
Leica APO 65/82
Leica X2 digiscoping adapter