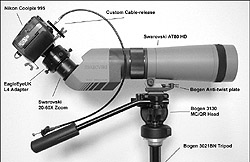 There are so many point-and-shoot digital cameras available on the market for digiscoping - it can be frustrating trying to sort through the options. Also burdensome is figuring out how or if a particular camera can be connected to a certain spotting scope. Both
Swarovski
and
Kowa
have comprehensive ring-based adapters that conform to a camera filter thread size.
Swarovski
includes a set of adapter rings (28mm, 37mm and 43mm) while
Kowa
provides 28mm, 37mm, 43mm, 52mm and 55mm rings sold individually.
But the question is what thread size does the camera you're considering have, or does it have threads at all? BugEyeDigital has a helpful "
lens compatibility chart
" that can help answer these questions. In some cases an additional adapter or step-up/down ring is required to get you there - the chart provides this data. Keep in mind that just because you can get all the pieces connected doesn't necessarily mean the particular camera will be good for digiscoping. You may need to conduct some experiments on your own.
Cheang Kum Seng
of Malaysia is still making custom digiscoping adapters and his work is outstanding. Send him an email for an electronic catalog of digiscoping options. If you have a Swarovski AT/ST model and not the newer ATS/STS, or if you have the Pentax PF80ED scope, then you'll definitely want to consider Cheang's adapter.
Other useful links for thead-based digiscoping adapters:
EyeEyeUK
Lens Adapter
LCE Adapters
CKC Power
Nikon Digiscoping