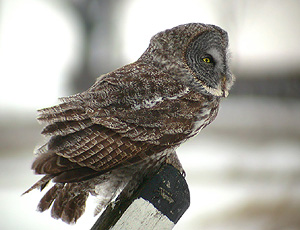 Named by local children, Wilson the "Goose Pond" Great Gray Owl was killed by a vehicle along Hwy 51 sometime on Saturday night. He was last seen by Steve Thiessen who reported his observation on Wisbirdn. We were aware that Wilson was first spotted as he sat on a faded sign along this same stretch of Hwy 51 a month or so earlier.
We called Kris Kesselhon, our "owl volunteer" and left a message on her answering machine that gave his Hwy 51 location. She had been searching for him and had not found him that day. We expressed our concern about his safety and thought that if he was found that he should be flushed from the road to get him away from the busy highway.
It was late Saturday evening when Kris returned home and heard our message and left to look for Wilson (11:00 p.m). It was a warm evening and the full moon provided Kris with the light that she needed to find him and flush him from the highway. However, when arriving she saw Wilson along the road and knew that he was dead. She mentioned to us that something told her to go out and look for him - she felt that it was important for her to go. As things turned out, Kris was glad that she was able to find him and bring him to us at Goose Pond.
Madison Audubon Society
has a federal and state permits that allow us to pick up dead animals for the purpose of making study skins and mounts for public education. Wilson may be made into a mount so that we can continue to educate people about the beauty of these special owls. We were very forutnate to have him here in Columbia/Dane Counties.
We put together a Great Gray Owl life history and birding etiquette fact sheet and Kris handed them out to all who came to see Wilson. She also provided owl watchers with a copy of the
Great Wisconsin Birding and Nature Trails
, Checklist of Wisconsin Birds. Kris spent many hours talking with people about Wilson. Kris also helped band Wilson and was thrilled by the experience. Kris wrote up her observations during her weeks working with Wilson and his public. We thank banders Richard Roberts and Dennis Hassly for banding Wilson.
Wilson had his own photographer, Mike McDowell. Many of us took pictures of Wilson, but his best side was captured by Mike, who came to know Wilson in a personal way. Here is our
favorite Wilson shot
!
On numerous trips to see Wilson, we would come upon Mike, parked a safe distance away from the owl, with his camera ready for the next prized shot. Mike shared our concern for Wilson's safety and privacy and we talked with Mike about how to educate the public about the special needs of birds and wildlife. Our converstions soon led to the idea of the fact sheet and Checklist of Wisconsin Birds as a way to let people know about observing birds and wildilfe without disturbance.
This past week has been a difficult time for us. On a trip to Siren for Sue's Great WI Birding and Nature Trail work, she found a dead Great Gray on the road. Just after she stopped to take it off the road, a car driving in the other direction hit another Great Gray. Yesterday, a Great Horned Owl was hit and killed near Goose Pond.
When people and wildlife mix, it is usually people who win. But we were all winners when Wilson came to be with us this winter. In an unusual year when thousands of northern owls came south, Wilson came to stay in our community. People came from far and wide to see him, and the local children named him. How nice, this memory of "our Wilson".
Mark and Sue Foote-Martin
Goose Pond Sanctuary
W7468 Prairie Lane
Arlington, WI 53911
Great Gray Owl image © 2005 Michael Allen McDowell