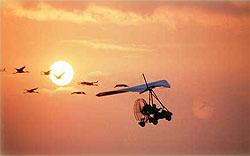 They are out of there! That's right. The Class of 2004 Whooping Cranes left their wintering grounds at the Chassahowitzka National Wildlife Refuge on March 25th.
Eagle Optics
is a
proud sponsor
of
Operation Migration
and to read more about the progress of the Whooping Cranes, read the daily entries in the
Field Journal
. Some of the adult Whooping Cranes have already made the journey back to Wisconsin!