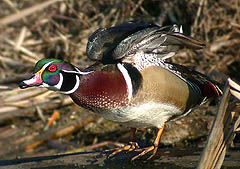 This past weekend I had a chance to check out the Goose Pond area for waterfowl and was very pleased to find over a dozen species. My two favorites are NORTHERN PINTAIL and WOOD DUCKS for their striking plumage patterns and colors. There were also BLUE-WINGED TEAL, GREEN-WINGED TEAL, RUDDY DUCKS, SCAUP, RING-NECKED DUCKS, CANVAS BACKS, RED-HEADS, AMERICAN WIGEONS, GADWALL, BUFFLE HEADS, MALLARDS and more!
For the past several days I've been noting WINTER WRENS in Pheasant Branch Conservancy, so on Monday morning I decided to set up my digiscoping gear where I had been seeing them on a consistent basis. Testament to the discipline, I waited and waited but no wrens -- I didn't even hear a song of one. However, a trio of WOOD DUCKS made their way into fantastic lighting and then perched on a log. This digiscoped male
WOOD DUCK
was captured just as he was initiating a stretch.
On my way into work this morning I checked the pond that has formed on HWY K just east of Ashton. I was pleasantly surprised to find 12 duck species. Like last year, my hope is this pond will be excellent for migrating shorebirds in the coming weeks.
Wood Duck image © 2005 Michael Allen McDowell