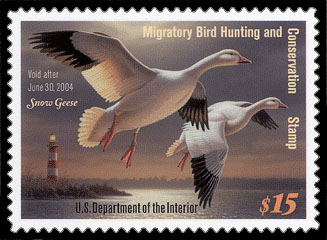 Since 1934, sales of
Federal Duck Stamps
to hunters, stamp collectors and other conservationists have raised more than
$700 million
that has been used to acquire more than
5.2 million acres of habitat
for the National Wildlife Refuge System.
Federal Duck Stamps are a vital tool for wetland conservation. Ninety-eight cents out of every dollar generated by the sales of Federal Duck Stamps goes directly to purchase or lease wetland habitat for protection in the
National Wildlife Refuge System
. Understandably, the Federal Duck Stamp Program has been called one of the most successful conservation programs ever initiated and is a highly effective way to conserve America's natural resources.
Purchasing a Federal Duck Stamp is another way you can help protect your favorite bird haunts!