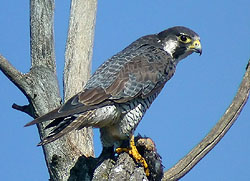 I have been fortunate to see a number of Peregrine Falcons in the wild over the years, but only twice have I had the incredible opportunity to witness one during a kill. Attaining breathtaking speeds of nearly 200 miles per hour during an attack stoop, they are indeed the fastest creature on the planet!
Here is an
informative article
I enjoyed reading from
Chicago Wilderness Magazine
about the Peregrine Falcons of Chicago. Katherine Millett writes, "Twenty years after the start of an ambitious reintroduction project, the peregrine falcon is on its way to recovery. But success in Chicago didn't come without some ruffled feathers."
And when you're finished reading the article, please feel free to enjoy this Peregrine Falcon series I photographed at
Horicon National Wildlife Refuge
back in July of 2003:
Peregrine on the lookout...
Look at these!
And he's off...
What have you got behind that tree?
Preparing to feed
Yellow-headed Blackbird's Demise
Portrait of a Predator
Peregrine Falcon image © 2005 Michael Allen McDowell