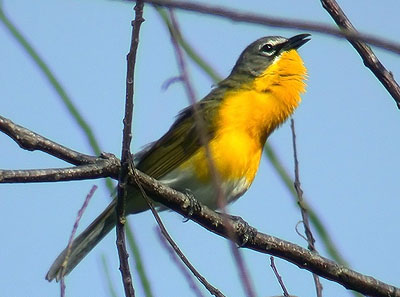 My co-worker Jason and I both had the day off from work and decided to do a mini "big day" of birding around Dane, Green, Iowa and Sauk Counties. We finished with
97 species
but the highlight of the day began just after sunup at Brooklyn Wildlife Area while watching
Yellow-breasted Chats
- they are so darn cool! This was a life bird for Jason and he savored every chirp, chatter and gurgle of the chat's complex song while watching through my Swarovski spotting scope.
A stop was made at Thompson Prairie, where I discovered one of my
Dickcissel images
prominently displayed on a
Nature Conservancy
sign! Woo-hoo! Other highlights of the day included Bobolinks, Dickcissels, Upland Sandpiper, Grasshopper Sparrows, White-eyed Vireo, Blue Grosbeak (WI State bird for me), Prothonotary Warbler, Lark Sparrows and Yellow-billed Cuckoo and more! Gorgeous weather to boot! Alas, another spring migration draws to a close with the arrival of the Dickcissels.
Link:
All about the Yellow-breasted Chat from Cornell Labs
Yellow-breasted Chat image © 2005 Michael Allen McDowell