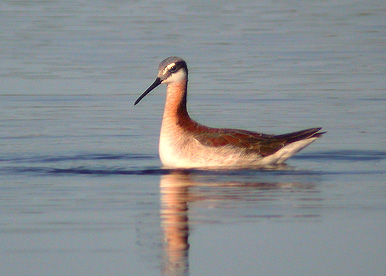 Each morning during spring migration I think to myself, "
What's it going to be today? Shorebirds or songbirds, shorebirds or songbirds
?" It can be quite the dilemma. On one hand, you feel like you don't want to miss any interesting shorebirds, but if you check that particular habitat you might miss a great warbler someplace else! So, at least once a week through May, I check Nine Springs for shorebirds, herons and other water birds. One day this week after work, my colleague Katie Fitzmier and I decided to study the shorebirds there.
Upon arrival, we could see the silhouettes in the back corner of the first pond, so we headed straight away to that side. There were nice side-by-side comparisons of Greater and Lesser Yellowlegs, plenty of Least Sandpipers, Dunlin and White-rumped Sandpipers. I know many new birders find shorebirds extremely challenging to identify – and they are! However, there is simply no mistaking a female breeding plumage
WILSON'S PHALAROPE
and the one we got to see was spinning in the glow of the evening sunlight.
Beyond sparrows and warblers, shorebirds are next in line for my favorite birds to watch. Though an expert birder in her own right, Katie admits having slacked a little on shorebirds over the past few years, so I quizzed her a few times on which species we were looking at.
Here's how we did:
Killdeer
Semipalmated Plover
Greater Yellowlegs
Lesser Yellowlegs
Pectoral Sandpiper
White-rumped Sandpiper
Spotted Sandpiper
Solitary Sandpiper
Stilt Sandpiper
Least Sandpiper
Semipalmated Sandpiper
Short-billed Dowitcher
Long-billed Dowitcher
Wilson's Phalarope
Dunlin
Link:
Further information about the Wilson's Phalarope from USGS.
Wilson's Phalarope image © 2005 Michael Allen McDowell