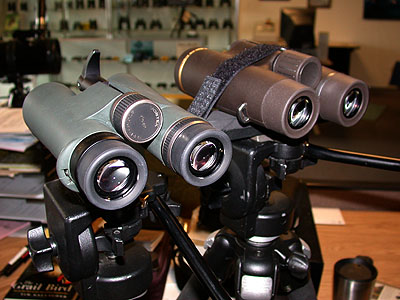 Here's an addendum to my "~$900.00 price-point binocular" review from a few months ago that I posted on
BirdForum.net
. As the
Leupold Golden Ring 8x42
wasn't in stock at the time, I spent a few hours at work this morning comparing it to the
Vortex Stokes DLS 8x42
.
The Binoculars were tripod mounted on Bogen 3021BN legs and 3130 heads with linear resolution charts placed at 25 feet (indoors) and 75 yards (outdoors [
sunny day with slight shimmer
]). Lowlight tests were conducted in a room with the lights off and stray light entering through an open doorway. I am not including the
Bushnell Elite 8x43
this time, as I can confidently categorize it as
second place
to both the Leupold GR and the Vortex DLS.
I'm employing a standard "A - F" letter-grading system. Try to think of this scoring not only as a comparison relative to each binocular, but also against all other binoculars. I know this isn't very scientific, but it's the best context I can offer.
Ergonomic Feel score: Vortex DLS: B+ / Leupold GR: C-

COMMENTS: The first thing you will notice about the Leupold GR when taking it out of the box is its
33.7 oz weight
. Most birders do not want binoculars this heavy. You may have briefly seen a weight of 29 oz on Leupold and their dealer literature/catalogs, but I verified it on two shipping scales and got 32.8 and 33.2 ounces. Leupold is showing the "33.7 oz" weight on their website. If Leupold built this binocular specifically for birding I would give them a
D-
grade. However, I know their core users are hunters. Though there are lower grades on other aspects of the Leupold GR, this is the most critical point I experienced with it. The Vortex DLS weighs in at a friendly
26.4 oz.
Build Quality score: Vortex DLS: A / Leupold GR: A

COMMENTS: These two binoculars are very well constructed to withstand extreme use in the field. Since I can't actually test their durability without potentially damaging them, this is a subjective guess. Both binoculars are waterproof and nitrogen purged. The Leupold has texturing on the rubber armoring for a sure-grip, whereas the Vortex armoring is smooth and has a softer feel in the hand, but still excellent grip quality. The barrels are quite a bit wider on the Leupold. I guess I'm digressing to ergonomic feel here, so it will suffice to say both binoculars are durably constructed.
Eyepiece/Eyecup score: Vortex DLS: A / Leupold GR: B

COMMENTS: Both are multi-position twist-up. Both offer eye-relief click-stops and have plenty of eye-relief for eyeglass wearers (DLS: 18mm / LGR: 17mm). Nice wide ocular openings for both binoculars. On the downside, the Leupold GR's eyecups are very large. It doesn't matter so much for me because I'm an eyeglass wearer. However, when I took my glasses off, I couldn't comfortably rest the eyecups into my eye sockets. Two of my colleagues offered the same criticism of the Leupold GR's eyecups.
Diopter score: Vortex DLS: C / Leupold GR: D

COMMENTS: I personally favor focus-knob pull-out/push-in diopters, so I'm not a fan of right-side barrel ones, so neither binocular has totally me won over on this point. The Leupold's diopter has one raised and grooved area 1mm high by 8mm long by 4mm wide along the ring that made it difficult to adjust with my fingertips – it's not high enough and/or large enough to get a firm grip on it for me. The entire circumference on the Vortex diopter is raised and grooved making it much easier to adjust. Hopefully, you won't be making frequent adjustments. Leupold could have done a lot better here.
Strap eyelets score: Vortex DLS: B / Leupold GR: A+

COMMENTS: Leupold does not want you to lose your binocular – the eyelets to thread the strap through are structurally superior to most binoculars I've used. They are thick, metal, set out from the body and very wide so just about any binocular strap ought to thread through it regardless of its width.
Tripod Adapter-ready score: Vortex DLS: C / Leupold GR: D-

COMMENTS: Where is the tripod adapter thread on the Leupold? I haven't figured it out yet. Instead, in place of the thumbscrew that normally reveals the adapter thread, Leupold offers users locking IPD (inter pupillary distance) -- this is probably useful for hunters crawling around on the woodland floor.
Maybe this isn't as important of a feature as I'm making it out to be, but when I go to Thomson Prairie to scan for Upland Sandpipers, I very much enjoy tripod-mounting my binoculars (I use Swarovski's quick-release binocular tripod adapter, and it rules).
For test purposes, I was able to use Cardoza Creation's "Sure-loc" tripod mount for the Leupold - it is sort of wobbly, but at least you're not out of options for tripod use. Even with binoculars that have a thread, you still need an "L" bracket adapter, so either way there is something extra you have to purchase. This is a minor point, but something I thought others might like to know.
Field-of-View score: Vortex DLS: A / Leupold GR: A

COMMENTS: Both offer a fairly wide 7.4 degree field-of-view – can't complain about anything here.
Brightness score: Vortex DLS: A / Leupold GR: B-

COMMENTS: The DLS was brighter in every test I conducted. In low-light tests, the DLS was discernibly brighter, and on the indoor 25ft resolution chart test it was like turning on a light switch compared to the Leupold.
Contrast score: Vortex DLS: B / Leupold GR: B+

COMMENTS: I liked the contrast better in the Leupold. Especially on the indoor 25ft resolution chart test - black bars, lines and numbers looked bolder to my eye.
Color score: Vortex DLS: B+ / Leupold GR: B-

COMMENTS: Whites on the Leupold had a greenish color cast where the DLS rendered neutrally. The Leupold also had slightly more greenish color fringing (chromatic aberration) on terminating contrast edges, evident on resolution chart blocks and lines. Maybe this is a tradeoff for the slightly better contrast.
Resolution score: Vortex DLS @ 25 feet: B / Leupold GR: B

Resolution score: Vortex DLS @ 75 yards: B / Leupold GR: C+

COMMENTS: Resolution-wise, these two binoculars are very similar. The Leupold only lost a slight edge against the DLS when glassing at greater distances.
Edge Sharpness Score: Vortex DLS: B / Leupold GR: A

By my judgment, when viewing the 25-foot resolution chart, the Leupold held sharpness farther across the field versus the DLS. Both binoculars are pretty decent in this respect when compared to mid-ranged priced binoculars, but the sharpness held across a larger area relative to the entire field on the Leupold.
Close focus score: Vortex DLS: A+ (4.5 feet) / Leupold GR: A (6 feet)

COMMENTS: Either binocular works well for close-focus applications.
Focus-travel score: Vortex DLS: B (1.25 turns) / Leupold GR: A (1.5 turns)

COMMENTS: The Vortex DLS has a very fast focus and I recognize not everyone is going to like this feature. I found the Leupold's focus offers slightly more forgiveness when fine focusing versus the DLS.
Focus Feel score: Vortex DLS: A / Leupold GR: A

COMMENTS: Focus travel is comfortable with no stiction or differential direction tension on both binoculars.
IPD (inter-pupillary distance) score: Vortex DLS: A (56mm – 75mm) / Leupold GR: A (56mm to 75mm)

COMMENTS: Both work fine for me! If you are aware of an IPD issue when using binoculars, have your ophthalmologist measure your IPD for compatibility with your eyes.
A few comments about accessories:

Both binoculars round out the package with a nice case, strap and covers for the objective lenses and a rainguard. The objective lens cover for the Leupold GR is a one-piece non-thethered cover that seems very fragile at the connection point between the two caps, and it does not stay attached very well.
Conclusion:

I think birders will benefit from the ergonomically friendlier, brighter image, color neutrality on the Vortex Stokes DLS 8x42. The fact is, the Leupold Golden Ring is very heavy. The hunting fandom that Leupold owns will ensure many Golden Ring binoculars enter the field, and they seem solidly built for rugged use.