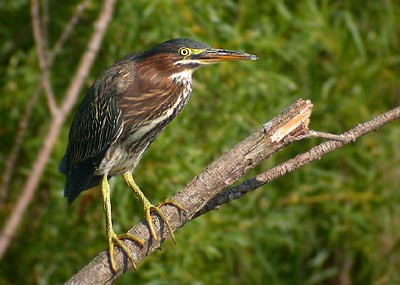 (click image for larger version)
My colleague Katie and I went to Nine Springs last evening to look for Buff-breasted Sandpipers, but alas…none were found. However, I couldn't pass up an opportunity to digiscope a
GREEN HERON
in excellent lighting. It really wasn't too tough as there were Green Herons just about everywhere we looked. The only new "southbound" shorebird we found was a single
GREATER YELLOWLEGS
.
DID YOU KNOW…
Sometimes Green Herons utilize a method of foraging called
"bait-fishing"
to catch food. However, this behavior is seldom observed and it isn't known whether it's innate or learned. The heron will drop a small object on the surface of the water, such as an insect, flower pedal, feather, seed, crust of bread or even popcorn. When an unsuspecting fish comes along hoping the bait might be food for itself, the heron strikes its prey.
Of the 36 heron feeding behaviors known, Green Herons have been documented using these 15; Standing, Baiting, Standing Flycatching, Head Swaying, Neck Swaying, Walking Slowly, Walking Quickly, Scanning, Feetfirst Diving, Foot Stirring, Foot Raking, Plunging, Diving, Jumping and Swimming Feeding.
Interesting little critters, aren't they?
Link:
All about the Green Heron from Cornell Labs
Green Heron image © 2005 Michael Allen McDowell