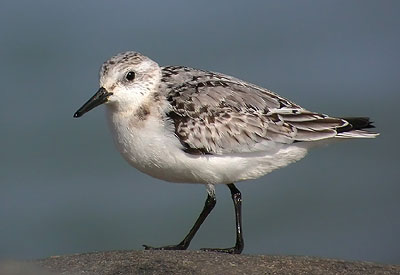 (click on image for larger version)
Here's an interesting website I found from the
University of Delaware Sea Grant College
about Horseshoe Crabs, but Of particular interest is the section on the
connection
between the crabs and shorebirds:
"In the last few decades, ornithologists have discovered that the spring migration of many species of shorebirds coincides with the arrival of the horseshoe crabs in Delaware Bay. Recent bird counts of migratory shorebirds have shown alarming decreases in numbers. Like the link between shorebird migration and horseshoe crab spawning times, many think there is a corresponding link between shorebird population declines and horseshoe crab over-harvesting."
Link:
Full Article
Related Links about Shorebirds:
Shorebirds: Prairies to Patagonia
Manomet's Shorebird World
Canadian Conservation Shorebird Plan
Save the Red Knot!
The
rufa
subspecies of the
Red Knot
is in danger of extinction. In the July issue of Bird Calls (American Bird Conservancy) scientists say that Red Knots stopping at the Delaware Bay has dropped from approximately 100,000 in 1989 to fewer than 15,000 in 2004.
Stuart MacKay's Waders
Some of the best shorebird pictures on the net!
All about the Sanderling from Cornell Labs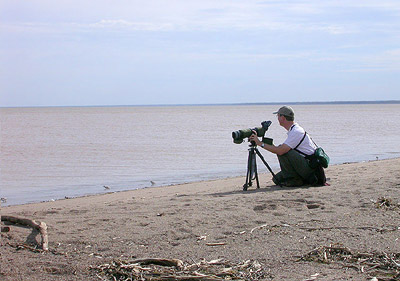 (click on image for larger version)
That's me preparing to digiscope while several Sanderlings scoot past on the beach at Wisconsin Point (Lake Superior) last fall.
Sanderling images © 2005 Michael Allen McDowell