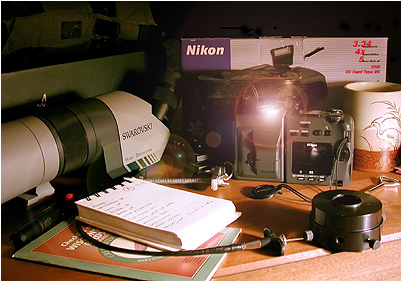 From the Digiscoping Desk...
Thumbing through the September/October issue of
WildBird Magazine
, I came across a Nikon ad featuring
Yoshiharu Ishimaru's
digiscoping website
DIGISCO.COM
. If you've not yet seen his work you owe it to yourself to see not only what is possible with digiscoping, but how far the bar has been raised. Also, check out this informative
graph
from his website demonstrating focal-length power of digiscoping.
In the same WildBird Magazine issue there is an article about digiscoping called
"Digi-what?"
featuring tips and advice from 8 digiscopers - Jeff Bouton, Steven Ingraham, Bill Schmoker, Clay Taylor, Andrew Farnsworth, Gary Rosenberg, Jason Starfire and me!