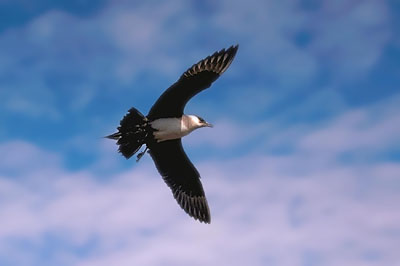 (image courtesy of US Fish & Wildlife Service)
Jaeger identification presents one of the greatest birding challenges out there. For anyone who has ever been involved with identifying a mystery bird, or deciding upon two or three extremely similar looking species, it's a very gratifying experience to arrive at a definitive identification.
Here's an interesting story regarding such a case that came to an absolute conclusion on account of the bird being found dead.
Tim Avery
originally photographed
this jaeger series
northwest of Willard Bay State Park, Utah on September 11th, 2005. At the bottom of that page you can read various opinions as to the identification of the bird. However, a few days later Tim found the deceased bird, collected it and returned with it to Salt Lake to photograph and document it:
Bill:
Primaries from the outer wing:
Body (backside):
Body (under side):
Tail:
Undertail coverts:
Under wing:
And so, it turned out to be a
PARASITIC JAEGER!