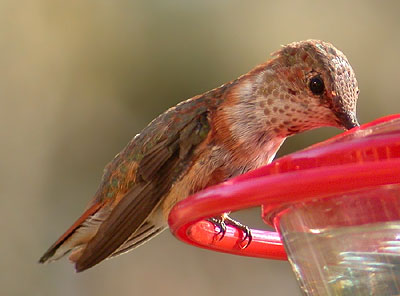 (the Black Earth Rufous Hummingbird)
Here's an email I received from Kathi & Michael Rock:
Greetings from the frozen tundra of Madison, Wisconsin!! Yesterday we enjoyed a high of 10 degrees and today it's a balmy 29 degrees with a light snow cover!! For us, hummingbird and gardening season are definitely over, but we are looking forward to all those gardening catalogs arriving in December and are already planning for 2006!
You might be interested to know that both Rufous hummingbirds that were reported in Wisconsin (one in Milwaukee and the other in Black Earth) have now departed for warmer temperatures. It was great while it lasted, but it's just too cold right now for these little guys to survive here and we wish them well in their travels. We would also like to thank the dedicated and caring people who hosted these beautiful birds and permitted us to come and observe and photograph them.
On a lighter note, you might enjoy the following fun
link about a couple of dedicated hummingbird watchers
in northern Wisconsin (we don't endorse the red nectar though---just sugar and water are best for the birds!) Enjoy!
Look for your December "Dane County Nectar News" soon. We wish you and your families a very happy and safe Holiday Season!
Best Wishes,
Kathi & Michael Rock
Madison, Wisconsin
Website:
http://mywebspace.wisc.edu/mjrock/web
Rufous Hummingbird image © 2005 Michael McDowell