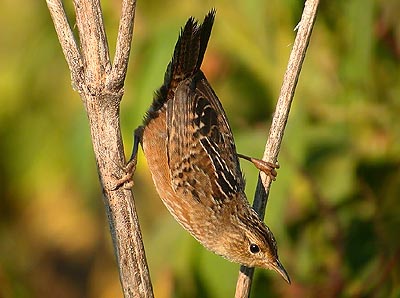 Wisconsin Year Birds 2005:
271
Wisconsin State Life Birds:
308
ABA Life Birds:
435
Digiscoped Birds:
160
Life Birds for 2005:
Prairie Warbler, Whimbrel and Cave Swallow
Best digiscoped image from 2005:
Sedge Wren
Best Bird Experience:
January 29th – Finding a Snowy Owl on my way home from work.
Update 6:00 p.m.
Patrick Ready called to let me know that a Snowy Owl had been seen north of Waunakee. I picked up Jesse Peterson and we made the short drive to take a look. A very nice bird to end the year on!
Happy New Year!
Sedge Wren image © 2005 Michael Allen McDowell