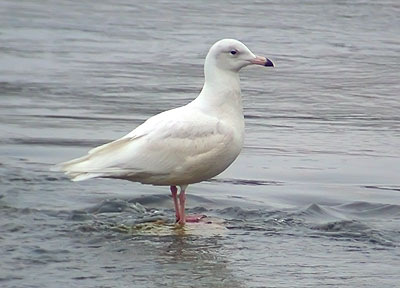 Yesterday's plan seemed simple enough - pick up Kim Benton, meet Katie Fitzmier and her boyfriend Sim in Milwaukee for a Lake Michigan gull/scoter/purple sandpiper search. Kim and I were a little late getting to Milwaukee and never found Katie and Sim. As a reward for taking one more birding trip, I got the snowstorm I asked for...the only problem was being on the road when it hit.
It was a great day of birding with stops at Milwaukee's North Point, Port Washington and Sheboygan. I picked up Glaucous Gull for the year, which was a life bird for Kim. She also got two others: Black Scoter and Great Black-backed Gull. We also saw Common Mergansers, Hooded Merganser, Red-breasted Merganser, Long-tailed Ducks and more. Habitat at Sheboygan that held a couple of Killdeer also looked promising for Purple Sandpiper, but we didn't find one.
The weather forecast called for snow flurries later in the day, but I guess we lingered too long. The roads became treacherous and we ended up being part of a six car accident southbound I43 near Mequon. A spinning jeep that had already hit a sedan missed us by mere inches and we ended up in the ditch as I struggled to avoid being hit by other cars. Unbelievably, we escaped without a scratch on the car or ourselves.
Kim quickly called 911 on her cell and police and emergency crews from Mequon were there in a minute. There were other accidents on both sides of I43, north and south of ours - what an awful mess. EMT's asked me to help carry an injured woman to a cart - not what I thought I'd be doing after seeing some great birds. It took nearly 2 hours to clean up and get back on the road and then 4 more hours of scary driving on slippery roads to get home.
Glaucous Gull image © 2005 Michael McDowell