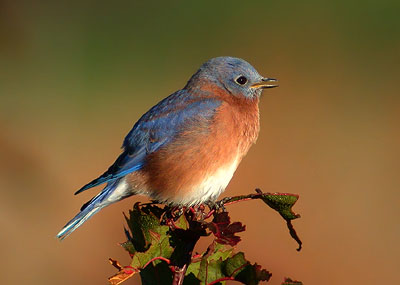 Among the interesting data collected from the 2005 Christmas Bird Count is the number of Eastern Bluebirds being found. Sixteen were counted on the Madison CBC alone. Last night Bob Domagalski reported to the Wisconsin Birding Network that 2005 could be, "one of the richest counts in WSO history." Bob continued:
"Eastern Bluebird -- With a little more than half the counts accounted for, 495 bluebirds have been reported over 33 circles. This compares to the previous historic high of 197 bluebirds over 20 counts set in 2003."
Also up in counts are Hermit Thrush, Carolina Wren, Northern Flicker and Yellow-bellied Sapsucker. On the downside and not unexpected, Red-headed Woodpecker posted the second lowest count in WSO history. Blue Jays showed a slight increase over 2004's poor showing. On the Madison CBC, only 2 Barred Owls were counted.
Eastern Bluebird image © 2006 Mike McDowell