Yesterday I decided to take part of the afternoon off to do a little birding through
Pheasant Branch Conservancy
. Nearly all our snow has melted and the daytime temperatures are hovering in the upper 30's and low 40's. I haven't done all that much birding so far this year due to watching the Snowy Owl and the only new bird to be found (for the year) was a
Song Sparrow
. But I'm not picky and a Song Sparrow will do nicely.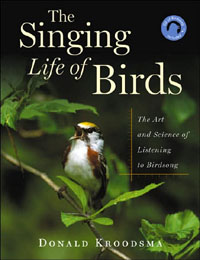 Speaking of song, I picked up a copy of Donald Kroodsma's book
The Singing Life of Birds
a few days ago. What a fascinating read and the companion CD makes it all the more enjoyable. I can already tell that his book is going to change the way I listen to bird songs when in the field this spring, as well as for backyard birds. If you've not yet picked up a copy, you should definitely consider doing so.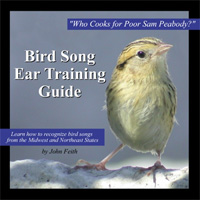 Madison's own
John Feith
produced the only CD I've ever used to learn bird songs. Do you recognize the image on the cover? The
Le Conte's Sparrow
on the cover was digiscoped at
Harbor Island
in Milwaukee a few years back, but I understand the fields have been converted to more of a park that is routinely mowed now - typical. John is an avid birder and I occasionally see him at Pheasant Branch Conservancy while he's working on recordings.
Song Sparrow image © 2006 Mike McDowell