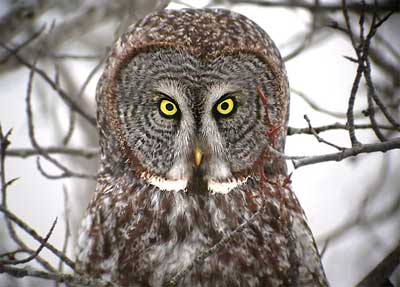 "Owls on the Move: When, Where, and Why"
A Symposium on Northern Owls
will take place on the campus of the
University of Minnesota, Duluth
the weekend of March 17, 18, & 19, 2006.
"Last winter, over
5,000 owls
descended on northern Minnesota, setting records and drawing bird enthusiasts from across the country to this region. This March, a weekend symposium celebrating the mystique, natural history, and ecology of northern owls will be held in Duluth, Minnesota. Featuring owls, art, a poster session, and speakers from as far away as Finland, this one of a kind event will appeal to a wide range of owl enthusiasts. Proceeds will be used to further owl research and conservation."
Link:
For more information see the "Owls on the Move" website
Great Gray Owl image © 2006 Michael Allen McDowell