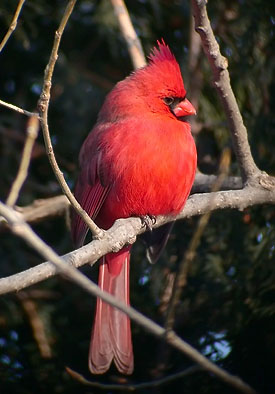 There hasn't been very much bird news to share, as I'm still recovering from a wicked flu virus. A fresh snowfall brought an increase in activity to our backyard feeders yesterday, including a party of 14 Northern Cardinals. I don't recall seeing so many in such a small area – the males have been singing for the past few weeks.
A Brown Creeper made a brief appearance and sampled some suet. Three Red-breasted Nuthatches took turns at the peanut feeder and a Red-bellied Woodpecker rested on a branch in our maple tree. No sign of the Yellow-rumped Warbler, but since it forages primarily at the treetops I could have easily missed it from inside.
Other birds included Black-capped Chickadees, Dark-eyed Juncos, House Finches, American Goldfinches, Downy Woodpecker, Hairy Woodpecker and a couple of Blue Jays. Backyard birds are always fun to watch and it's enough to satisfy for a birding fix in until I'm back in the field.
Update - 2:30 p.m.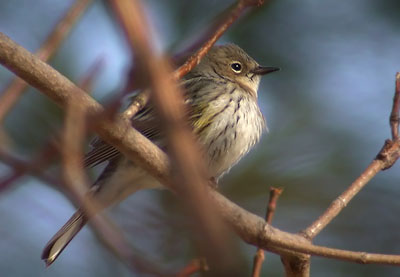 Hey, I was right - the Yellow-rumped Warbler is still here and this time it was eating suet. I went outside to try and get a picture, but it retreated to the branches above. This shot is the best I could do.
I'll tell you what...Brown Creepers are tough photographic subjects. Just when you think you've got them framed, they scoot up...and up...it's frustrating. This creeper stopped to pick up a bit of suet that had fallen to the ground and then proceded to carry it up the tree.
(click on image for larger version)
While sitting on the patio waiting for something else to happen...a soaring raptor caught my eye - it was a Bald Eagle. That's 16 species right from my patio...doubtful I would have done much better had I gone to Pheasant Branch.
All images © 2006 Mike McDowell