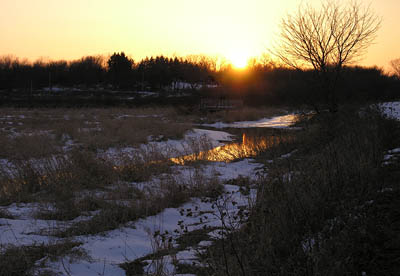 Yesterday evening on my way home from work, I made a stop at Nine Springs. My friend Steve recently reported that the
Short-eared Owl
was still there, so I thought I would try my luck one more time.
When I first arrived, the place was "raptor-central" with three
Red-tailed Hawks
, one
Rough-legged Hawk
and a
Northern Harrier
. It was about an hour before sunset, so I decided to walk the perimeter trail – and heck, I could sure use the exercise.
I found a flock of
American Tree Sparrows
, a couple of
Song Sparrows
and
Dark-eyed Juncos
. A large mixed-flock with mostly
Red-winged Blackbirds
also had a few
Common Grackles
,
Brown-headed Cowbirds
and
European Starlings
. They were getting ready to roost in the trees way in the back part of the fields.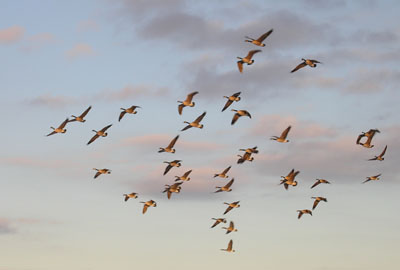 There were hundreds of
Canada Gees
e and several
Sandhill Cranes
. Near the back trail, I found some of their footprints in the snow and decided to photograph them: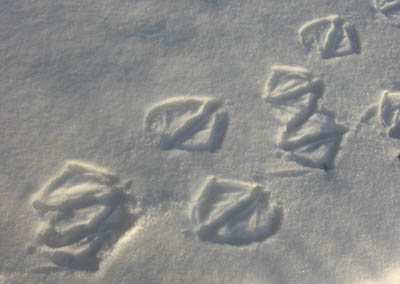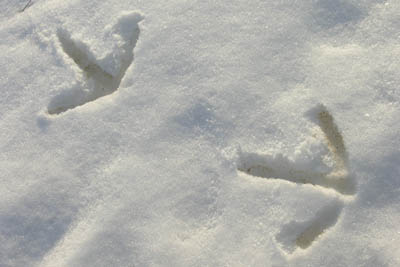 About 10 minutes after the sun dipped below the horizon, I spotted the
Short-eared Owl
zooming across the field – what a beautiful bird! It perched on a fence post about 200 yards away from where I was standing. The owl didn't sit still for long, though. It returned to the sky, performing some amazing aerial acrobatics. Since I was getting a bit cold and it was too dark to photograph much of anything, I decided to head home.
All images © 2006 Mike McDowell