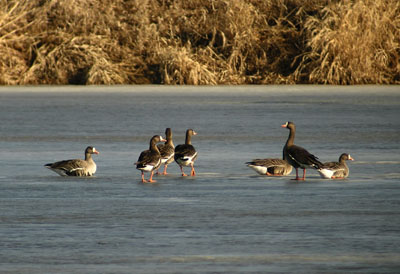 (click on image for larger version)
Right now it's pouring rain, but earlier it was another day of gorgeous spring weather in southern Wisconsin. This morning I decided to head over to
Nine Springs
and
Lake Farm Park
to continue practicing with my new digital camera. There were plenty of birds but not many were close enough or willing subjects, like these distant
Greater White-fronted Geese
on the ice. However, I saw enough in today's results to know that the
Nikon Coolpix 8400
will indeed make a great digiscoping camera.
It's going to work well for large birds…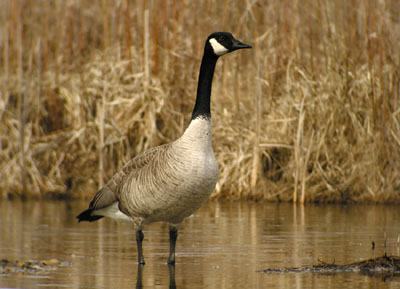 (click on image for larger version)
And small ones, too…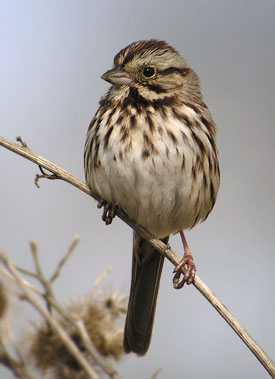 (click on image for larger version)
My favorite picture from the morning took considerable time and effort. While making my first lap around the back pond at Nine Springs, I inadvertently flushed a large flock of waterfowl. Several dozen remained, including a male
Northern Pintail
. To get its picture, one hurdle was that I was on the wrong side of the light. I didn't want to circle around and take the path along the stream (the shortest route) because three
Sandhill Cranes
had claimed it. Instead, I decided to go the long way and made a clock-wise circle around the pond to get where I needed to be. No worries, during the walk I would simply continue to bird.
Once close enough to the pond, I
configured my tripod for low-angle work
by removing the center post and flattening the legs so the scope would only be just a few inches above the ground. I always carry a small screwdriver in my camera pouch so I can make this tripod conversion in the field.
I still needed to advance another 20 yards toward the edge of the pond to have a chance at getting a photograph of the pintail. One wrong move and a hundred dabblers would reward me with failure -
wooooooosssshhh! -
from the rushing sound of hundreds of wings flapping at once. Actually, it's still an awesome sight and sound, but something I would have made effort to avoid even if I hadn't been there to digiscope.
By belly-crawling and pushing the scope and tripod ahead of me, it took a half an hour to sneak up on the ducks. All I had to do was find an opening between the cattails so I could poke my scope lens through and hopefully come away with a decent picture. On a couple of occasions a few ducks saw my hand go for the shutter button, which momentarily raised the volume of their vocalizations...luckily for my efforts, they remained.
With any kind of wildlife photography, there's only so much you can control and I wish the composition was a little better, sans foreground obstructions, but I still feel like I got away with a good one. I suppose I could have raised the tripod a little more, but I didn't want to take the increased risk of flushing the birds.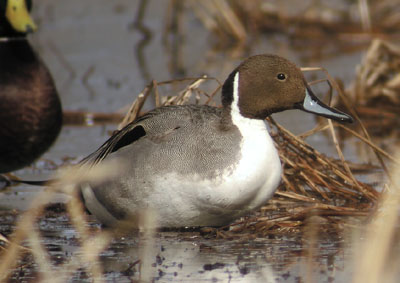 (click on image for larger version)
After taking a dozen or so shots of this beautiful pintail, I slowly scooted back to where I left my fieldguide, gloves, camera pouch and some other items. Soaked and covered with mud, I headed back to the parking lot to dry off in the sun before heading over to Lake Farm Park.
Here are all the bird species I found between the two locations:
Great Blue Heron
Greater White-fronted Goose
Canada Goose
Wood Duck
Gadwall
American Wigeon
American Black Duck
Mallard
Northern Shoveler
Northern Pintail
Green-winged Teal
Ring-necked Duck
Bufflehead
Common Goldeneye
Hooded Merganser
Common Merganser
Northern Harrier
Red-tailed Hawk
Rough-legged Hawk
American Coot
Sandhill Crane
Killdeer
Ring-billed Gull
Herring Gull
Mourning Dove
Great Horned Owl
Red-bellied Woodpecker
Downy Woodpecker
Hairy Woodpecker
Northern Flicker
Blue Jay
Black-capped Chickadee
White-breasted Nuthatch
Brown Creeper
American Robin
European Starling
American Tree Sparrow
Savannah Sparrow
Fox Sparrow
Song Sparrow
White-throated Sparrow
Dark-eyed Junco
Northern Cardinal
Red-winged Blackbird
Rusty Blackbird
Common Grackle
Brown-headed Cowbird
House Finch
American Goldfinch
All images © 2006 Mike McDowell