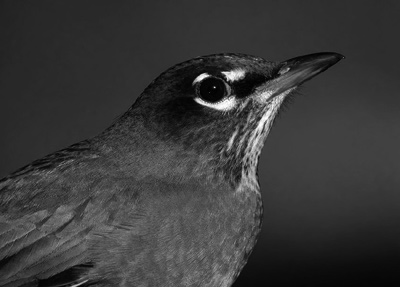 © 2006 Mike McDowell
As an early riser,
a very early riser
, I'm usually awake as the birdsong from our neighborhood American Robins reaches its morning peak – there must be literally thousands of them throughout the village of Waunakee. They are often the first birds to initiate the morning choir of birdsong and the last birds heard as dusk falls. Mornings provide one type of experience, but evenings offer another far more entertaining. No matter how often witnessed, there's no decrease in my fascination and enjoyment of watching robins go to roost. It can be as relaxing as it is hilarious, but when it comes to birds I'm pretty easy to please.
June is the best month for observing roosting robins...calm evenings with clear skies are best. Hopefully there aren't too many mosquitoes out. I'll take my seat on the front steps in preparation for the evening ritual. At twilight, a few robins appear at the periphery of our yard, slowly converging toward the center beneath our maple trees. A few moments pass, then even more birds appear seemingly out of nowhere – dim light makes it difficult to detect their inbound landings. Eventually the yard is dotted with twenty or thirty robins as fireflies begin to meander through the dampening air.
By this time most of the robins have switched from their melodious song to gentler
durp-durp-durp-durp
calls, though a few birds off in the distance continue full song. Then like clockwork, each bird makes the short flight from the ground up to a tree branch in one of our maples. It's bedtime and their vocalizations further decrease in volume as the sleepy birds settle in for the night...
chur-chur-chur-chur...durp-durp-durp-durp
.
DEEP-DEEP!
Invariably, an occasional robin will zoom up to the dense canopy only to disturb another bird already at roost. There's a short skirmish and a rapid fire of intensified
deep-deep
calls. The conflicts are resolved quickly when either the offending bird hops over to claim an unoccupied branch or the other is pushed out.
In a way, I think it would be sort of neat to have a night-vision camera mounted on a branch inside the dense canopy and record their interactions. But the rustling leaves, dipping branches, shifting vocalizations and occasional feathered silhouettes fuels my imagination with a perfect sense of what's going on under that dense, dark canopy of leaves.