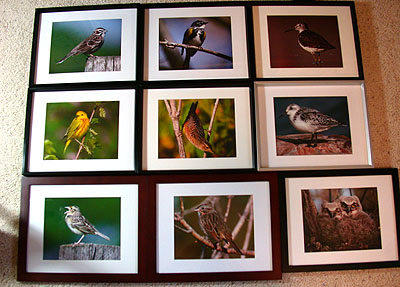 © 2006 Mike McDowell
It's been much too hot go birding so I stayed inside today and worked on projects – I'm making pretty good progress. I've been invited to exhibit 20 of my nature photographs at the Madison Public Library through the month of August, so I spent most of today printing out 8x10's and framing them. Naturally, most of the pictures are of birds but I'm planning on including a few butterfly and wildflower photographs as well.
Complementing the exhibit, on the evening of August 9th at 7:00pm I'll be giving a brief presentation at the library on urban / backyard bird watching. If you're in the Madison area and would like to see the exhibit or attend my presentation, here's the address:
Madison Public Library (Central)
201 West Mifflin Street
Madison WI
(608) 266-6300
Sometime in August I also might be exhibiting the same work for the Wisconsin Bird Breeding Atlas project, as several of my images were used for species accounts. As of yet, I'm not sure I'll be attending this event but if I decide to, then I'll be sure post information about it here.