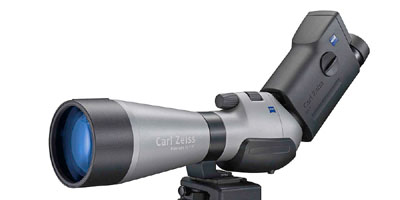 We get a lot of digiscoping questions each day at
Eagle Optics
, but I still lack a keen sense for how big or small digiscoping actually is. Are birders really embracing it as a viable method for bird photography? I wonder how many people never call with questions concerning connectivity or adapters and simply hold the digital camera up to the eyepiece.
The 2004 Birdwatcher's Companion has a brief entry on digiscoping that closes with a prediction to "expect rapid evolution." Digiscoping has been around for almost a decade now and I would opine that digital camera and spotting scope manufacturers remain in a period of stasis. To be fair, there have been a few attempts to branch from the trunk of the digiscoping evolutionary tree, but neither the Nikon P1 System or the Kowa TD-1 seemed to catch on with consumers.
Ever since the discontinuation of the Nikon Coolpix 990, 995 and 4500, it seems digiscoping remains a proverbial crapshoot - buying a high-end spotting scope, the manufacturer's digiscoping adapter and pray you can find a point-and-shoot digital camera that will connect to it and deliver the goods. Credit to the conventional methodology, Bill Thompson III recently featured a
nice overview
connecting a Canon PowerShot A520 to a Swarovski scope on his birding blog.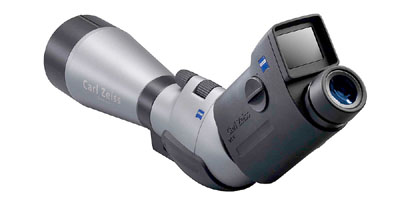 Now it appears Zeiss will attempt to punctuate the equilibrium with an evolutionary step of their own design - a veritable digital eyepiece. So far this integrated digiscoping eyepiece/digital camera only shows on their
German website
. Here's the product specification detail:
4 megapixels.
1.8" LCD display.
SD card data storage.
Rubber-armored/waterproof housing.
Integrated observation eyepiece with 30x(65mm)/40x(85mm) magnification.
Display can be viewed via eyepiece and integrated monitor simultaneously.
Wireless remote control avoids vibration during image capturing.
USB + AV interface for PC and external TV monitor.
Power supplied via batteries or external power supply.
Zeiss states, "Designed for the Zeiss Diascope spotting scope, the innovative DC4 camera eyepiece is expected to be available in the fall of 2006. Production is limited to 1000 units."
Is it good? Is it bad? I'll keep you posted...