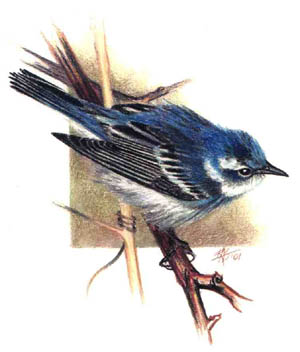 (click on image for more artwork by Robin Street-Morris)
"The U.S. Fish and Wildlife Service today announced that while populations of the cerulean warbler are declining, listing the species as threatened under the Endangered Species Act is not warranted. The Service will pursue cooperative conservation initiatives designed to reverse population declines and prevent the need to list this migratory songbird."
Link:
Full Report from USF&WS
Link:
"Tragedy" for Cerulean Warbler
Cerulean Warbler drawing ©
Robin Street-Morris
used with permission.